Six Degrees of Separation
(1993)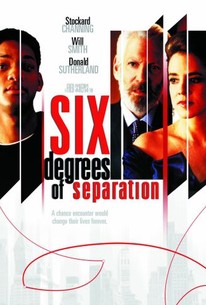 Six Degrees of Separation Photos
Movie Info
Two socialites find their view of the world changed when a young man takes advantage of their preconceptions in this thoughtful comedy-drama. Flan and Ouisa Kittredge (Donald Sutherland and Stockard Channing) are a married couple who have built highly successful careers as art dealers catering to Manhattan's upper crust. The Kittredges are entertaining friends one evening when a young black man named Paul (Will Smith) appears at their door. Paul says that he's a close friend of their children, with whom he attended boarding school, and he's just been mugged and needs to get off the street for a moment. Flan and Ouisa invite him in, and they are immediately taken by Paul's intelligence and charm; he offers to prepare dinner, regales them with stories about his father, Sidney Poitier, and ends up spending the night at their apartment. However, the next morning Flan and Ouisa discover that they've been had; Paul is actually a con artist from the streets who has been pulling the wool over the eyes of many of their friends -- and his actions are beginning to have serious consequences. John Guare adapted the script from his own successful stage play; the supporting cast includes Ian McKellen, Mary Beth Hurt, Bruce Davison, and Heather Graham. ~ Mark Deming, Rovi
People Who Like this movie also like
News & Interviews for Six Degrees of Separation
Critic Reviews for Six Degrees of Separation
Audience Reviews for Six Degrees of Separation
In an interesting dream scenario, rich, upper Eastside New Yorkers have their guilt about racial inequality expunged by a run-in with streetwise Will Smith (who incredibly learns to fake a Harvard-worthy education in 3, count'em, 3 weeks!). Sutherland and Channing do well for this off-to-see-the-wizard roadtrip, merely bouncing off one another as they relate to the wine and cheese set what it was like to bump against one of the (shiver!) great unwashed. You don't hear about this fantasy much because of the rarified clientele it kowtows to. Still, everyone does their job, even if the story never leaves the environs of 34 floors above Central Park. The dripping, well intentioned liberalism nearly drowns, however clever, however manipulative. Worth seeing though, if only for the brief treatise on Catcher In The Rye, engagingly delivered by Smith.
Kevin M. Williams
Super Reviewer
Transferring stage plays to the screen is very tricky. By their nature plays are more dialogue heavy and are set in a much smaller world, often limited rooms etc. This is one of the films that seems to have a lot of trouble in transforming one medium to another. Lengthy dialogue isn't the problem though, it's the continuous retelling at different social occasions. Of course this all becomes the point by the last scene but it still feels awkward. The film could have shown so much more and rather than criticised the high-class wealthy elite it could have gone deeper into Paul's psychosis. At least for the audience if not the main characters. The film also revels in the fact it swings around issues of gays/blacks and both as though it is proclaiming something brand new and fascinating. Will Smith's refusal to actually kiss Anthony Michael Hall at the time says more about being black and gay than this whole film. It's certainly acted well for the most part, though it is clear to see how Smith has improved over the years. The humour also goes some way to creating a more enjoyable experience.
Luke Baldock
Super Reviewer
½
Will's character is very interesting. Is there really 6 degrees of separation?
Candy Rose
Super Reviewer
Six Degrees of Separation Quotes
| | |
| --- | --- |
| Ouisa Kittredge: | "And we become these human jukeboxes, spilling out these anecdotes, but it was and experience! How do we keep the experience?" |
| Ouisa Kittredge: | And we become these human jukeboxes, spilling out these anecdotes, but it was and experience! How do we keep the experience? |
| | |
| --- | --- |
| Paul: | The Kandinsky is painted on both sides |
| Paul: | The Kandinsky. It's painted on two sides. |
| Paul: | The Kandinsky is painted on both sides! |