Pulse 2: Afterlife
(2008)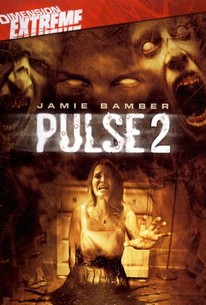 AUDIENCE SCORE
Critic Consensus: No consensus yet.
Pulse 2: Afterlife Photos
Movie Info
The human race is on the brink of extinction after coming under attack from soulless ghosts who use digital frequencies to haunt mankind, leaving two divorced parents with little choice other than to compromise their own safety in favor of finding their missing daughter. There weren't many people left on Earth after the spectral apocalypse, and now small pockets of survivors seek refuge from the malevolent spirits while attempting to escape their supernatural grip. But there's not much hope left in the world anymore, only chaos and terror. Upon realizing that their defenseless young daughter has inadvertently waded directly into the black heart of this cataclysmic horror, a divorced couple with nothing in common but their shared love of their daughter prepare to make the ultimate sacrifice in order to wrestle their little girl from the clutches of death. ~ Jason Buchanan, Rovi
Critic Reviews for Pulse 2: Afterlife
All Critics (2) | Fresh (0) | Rotten (2)
While Pulse 2 is a pretty arid, predictable, and consistently goofy horror sequel, I have to give the guys points for trying something different.
Audience Reviews for Pulse 2: Afterlife
Pulse 2:Afterlife is an awful sequel to an awful remake. This sequel is a collection of recycled ideas from the first and it adds nothing new to the plot of the franchise. All it does is make the viewer frustrated with what he's watching. This is a pointless attempt at making money off a poorly made sequel. The film has a poorly constructed storyline with a bad cast of actors. The film relies on its special effects to create the tension, and in this case, they're not that good looking. The film looks cheaply made, its standard direct to DVD fare and the film is plainly awful. I really don't understand the meaning of doing a sequel to an already bad film. The first one was crap, so naturally, the second will be. There's absolutely nothing going on that will interest the viewer, and watching paint dry is more interesting than this piece of garbage. This is a film that has no merits in trying to deliver something scary on screen, because, well it doesn't and it fails in doing so. This film scraps the bottom of the barrel, and is an absolute waste of time, and this is a film that should've never been made. Awful.
My aunt rented this, so I watched it cause I'll pretty much watch anything...even if it is a sequel to a crappy remake of a japanese film. To be honest this film is way worse than the first...At least the remake looked good on the eyes, well compared to this film at least, cause this film looked like crap. Most of the enviroments were shot on green screen...why?? I don't know but it made the film look cheap. The acting is horrible, but then again you don't watch these types of films for the acting (as I've mentioned millions of times)...the writing is terrible. In fact the violence isn't even THAT good...it's just static violence...which isn't very violent at all believe me. The only scene was where the fat guy jumped off the bridge and hit the car...that was the only scene with some blood on it. I didn't count the uncle pete scene since that was cat blood. But yea that's it...the rest is just staticky violence. So if you're into staticky horror films then this is the one for you...if not...then you're fucked cause this fmovie fucking sucks.
Jesse Ortega
Super Reviewer
½
It's not even worth writing up. Don't bother. Bamber's earnestness gives it 1 1/2 stars I give it.
Pulse 2: Afterlife Quotes
There are no approved quotes yet for this movie.