Pulse 3
(2008)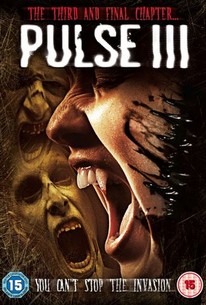 AUDIENCE SCORE
Critic Consensus: No consensus yet.
Movie Info
Seven years after the population of planet Earth was devastated due to an attack by "soulless ghosts," the few human survivors living a primitive existence on the outskirts of a decimated city discover that the worst is yet to come. The human race is haunted. Stalked from the beyond by ghosts who use technology to enter our reality, our numbers have dwindled to nearly nothing. Only a few survivors still exist, and they must do their best to get by without any modern technology whatsoever. Their lives are changed forever with the arrival of a sixteen year old girl named Justine, whose adolescent curiosity may ultimately cement the extinction of our species. Unable to resist the allure of a working laptop, Justine opens the computer and unleashes the most horrific supernatural attack ever to be waged against mankind. Now, in a world devoid of hope, humanity wages its last stand against a force powerful enough to swallow up entire civilizations.
Critic Reviews for Pulse 3
All Critics (2) | Fresh (0) | Rotten (2)
actually works better than the original theatrical release of Pulse because the bar is a bit lower.
An obvious improvement over its immediate predecessor...
Audience Reviews for Pulse 3
I really don't know why they keep making these trashy sequels to an already bad remake. Oh wait the money. Pulse has nothing going for it to make it truly interesting. The only thing that's going for it is how awful it can get. Well for the series this is an awful third entry with nothing interesting. The script is awful, the scares are cheap, with nothing creative about them, and the film looks very low budget. Of course straight to DVD titles will always suck, but on the rare occasion they'll be one that stands out as actually quite good, unfortunately, Pulse 3 doesn't do that whatsoever. This is a stupid franchise, and these sequels and remake included are pointless and an insult to the original work. They really should get a hint that these films suck. Hollywood should focus on quality, not quantity. These films are awful and have nothing creative about them. The actors are crap, the directing is awful and everything else is out of place. These films should've never been made in the first place. I really don't understand the point of making awful sequels to an already awful remake. Do yourself a favor, watch something other than this trash, I found it's more of the same than the first two films in this dreadful series and it doesn't pay off. Avoid it.
Don't waste your time - again.
Chris Middleton
Super Reviewer
½
This is real bad. Looked so fake and even though I thought the idea of this one was pretty good the overall result was bad and the acting by the main girl especially.
Jason Stratford
Super Reviewer
Pulse 3 Quotes
There are no approved quotes yet for this movie.