Pump Up the Volume
(1990)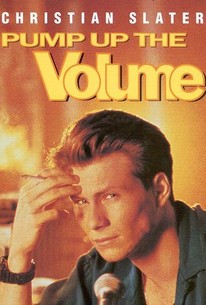 Pump Up the Volume Photos
Movie Info
Teenage angst finds a new voice in this drama. By day, Mark Hunter (Christian Slater) is a quiet, studious student at an ordinary suburban high school in Arizona. But at night, Mark creeps down into his basement, fires up his pirate radio transmitter, and broadcasts to the community as Hard Harry, a sexually obsessed social commentator who passes along angry philosophy about the state of teenage life when not blasting punk rock or gangsta rap cuts. Hard Harry's sworn nemesis is high school principal Mrs. Cresswood (Annie Ross), who keeps SAT scores up at the expense of her students' dignity and individuality by eliminating "troublemakers" from the student body. Hard Harry's broadcasts, however, have become a rallying point for the school's misfit underclass, and Mrs. Cresswood is determined to track down the mystery student and bring him to justice (broadcasting without a license, he's not merely an annoyance, but a criminal). The war against Hard Harry intensifies when he broadcasts data from confidential school board reports; Mark's father is a school commissioner, but he has no idea what his son is doing in the basement. Meanwhile, Mark gains the attentions of Nora (Samantha Mathis), who has figured out who he becomes at night. More serious and intelligent than the average teen film, Pump Up the Volume was written and directed by Allan Moyle, who previously dealt with disaffected, music-obsessed teens in Times Square and would return to them with Empire Records.
People Who Like this movie also like
News & Interviews for Pump Up the Volume
Critic Reviews for Pump Up the Volume
Audience Reviews for Pump Up the Volume
Rewatched this for the first time in years. I think my last viewing may have actually been on VHS. Really enjoyed it, was actually better than I remembered it. Excellent 1990 teen film with the usual themes of alienation. Very well done with good soundtrack and interesting spin with the anonymous pirate radio show.
Nicki Marie
Super Reviewer
½
Slater does it again, this catapults straight into my top 10 alongside 'Heathers' another Slater movie that I watche and while back and have been repeatedly watching since. This movie really speaks to me and I think what it has to say about youth still stands today: We're not ourselves, we live by other peoles standards, can't we just be free?
Cameron Sherwell
Super Reviewer
Slater is so hot in this movie! This rebellious teen drama is full of both angst and celebration of being a teenager at the turn of the decade. I really loved it when I was a teen, and I highly recommend it.
Pump Up the Volume Quotes
| | |
| --- | --- |
| Murdock: | Creswood's a maggot pusswad. |
| | |
| --- | --- |
| Mark Hunter: | I like the idea that a voice can just go somewhere, uninvited, and just kinda hang out like a dirty thought in a nice clean mind. Maybe a though is like a virus, you know, it can... it can... kill all the healthy thoughts and just take over. That would be serious. |
| | |
| --- | --- |
| Mark Hunter: | Ok, this is really me now. No more hiding. Listen, we're all worried, we're all in pain. That just comes with having eyes and with having ears. But just remember one thing, it can't get any worse, it can only get better. I mean High School is the bottom. Being a teenager sucks! But that's the point, surviving it is the whole point! Quitting is not going to make you strong, living will. So just hang on and hang in there. You know, I know all about the hating and the sneering. I'm a member of the "why bother" generation myself. But why did I bother to come out here tonight, and why did you? I mean, It's time. It's begins with us, not with politicians, the experts or the teachers but with us. With you and with me. The ones who need it most. I gotta believe, with everything in me, the whole world is longing for healing. Even the trees, the earth itself are crying out for it. You can hear it everywhere. Same kinda healing I desperately needed and I finally feel has begun, with you. |
| | |
| --- | --- |
| Nora Diniro: | I'm the "Eat me, beat me" lady. |
Discussion Forum
Discuss Pump Up the Volume on our Movie forum!