Puncture
(2011)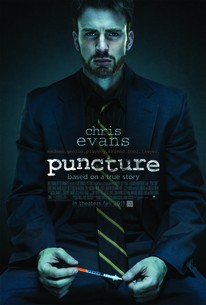 TOMATOMETER
AUDIENCE SCORE
Critic Consensus: There's a compelling story at the heart of Puncture but viewers will have to pierce through the formulaic storytelling to find it.
Movie Info
Mike Weiss (Chris Evans) is a talented young Houston lawyer and a functioning drug addict. Paul Danziger (co-director Mark Kassen), his longtime friend and partner, is the traight-laced and responsible yin to Mike's yang. Their mom-and-pop personal injury law firm is getting by, but things really get interesting when they decide to take on a case involving Vicky (Vinessa Shaw), a local ER nurse, who is pricked by a contaminated needle on the job. As Weiss and Danziger dig deeper into the case, a health care and pharmaceutical conspiracy teeters on exposure and heavyweight attorneys move in on the defense. Out of their league but invested in their own principles, the mounting pressure of the case pushes the two underdog lawyers and their business to the breaking point. -- (C) Millenium
People Who Like this movie also like
News & Interviews for Puncture
Critic Reviews for Puncture
Audience Reviews for Puncture
½
Set in Houston, Texas in 1998, and based on actual events, this indie drama focuses on Mike Weiss- a talented young lawyer and functioning drug addict. Along with his straight-laced law partner Paul Danziger, they run a modestly successful mom and pop style personal injury law firm. Their business really picks up when, after taking on the case of an ER nurse who accidentally got stuck with a contaminated needle, they find themselves embroiled in a web of conspiracy with big business interests are lawyers far more powerful than they are. Though it is a Herculean task, the two buck up and do their best to fight for what's right, despite all that stands in their way. In a way this kind of feels like the cinematic equivalent of an airport novel, but I mean that in a positive way. It's well paced, engaging, and keeps you interested. There are shades of familiarity of course, and it's not the deepest material either, but there's still a fair amount of substance, and what really holds it all together is the lead performance by Chris Evans, who once again adds another solid piece of work to his resume. Evans is fun to watch, quite convincing, and does a good job at balancing the slick lawyer side with the wild side. As his foil, co-director Mark Kassen is fine as Paul. We also gets some okay work from Vinessa Shaw as their nurse client, Marshall Bell as a key player in their investigation, and an all too brief, but still fine appearance by Michael Biehn as another piece of the puzzle. The film is not all that different from other legal procedurals, but what makes it worth it is the acting (especially from Evans), the fact that it's a neat real-life based story, and the cinematography, which is a nice blend of darkness and light. I found this to be a nice satisfying little drama and, though it's not groundbreaking, it is still done decently well enough to warrant a watch.
Chris Weber
Super Reviewer
½
I was inclined to watch it for it being based on real life case. Apparently, it's not always a pleasant experience (& at times I've ended up paying drastically for my interest in the genre). While not a total disaster, this one surely could have been more interesting than what it is. For a <100 minutes movie, it was a bit too snail-paced. The characterization of Mike Weiss was extremely typical. It fails to concentrate on the case. It may have been better off without its fair share of exposures & histrionics. So far as storytelling goes, it's a wasted opportunity. However, given the content, quite an apt title that's not the least misleading!!! 1.5/5 is my generous rating.
familiar stranger
Super Reviewer
½
Question: Are you afraid of needles? I am, never in my life have I ever been able to handle needles. When I was a child, my fear was so intense that when I would get a cavity filled I would forgo the Novocain because the huge metal syringe looked like a torture device. I would just raise my hand when the dentist hit the nerve. Then he could continue drilling. I know it's not logical, at all, but something about the huge needle coming at me scared me to death. Of course, over time I have learned to tolerate (hide) my fear; but I still have a small, silent panic attack whenever I see a needle during any doctor's visit. And I just finished watching the film, Puncture, and now have a more elevated fear of needles. That does not mean it was a bad movie or story. On the contrary, I am glad I watched it and learned something about needle use and manufacturing in our country. However, I am slightly angry at the moment. Right after the film I was almost numb because it was based on true events that shocked me. Then I began to really think about the story, in its entirety, and a wave of annoyance slowly crept in. Corporate greed and government corruption or manipulation, whatever you want to call it, is at the base of Puncture. To be honest, when the film began I had presumed it had a completely different plot. Chris Evans stars in it, and I believe I saw a preview for it awhile back but just saw that he was a lawyer (Mike Weiss) with a drug problem so I assumed the movie was about him and his issues. I was wrong. Now I won't go into detail about the film, as per my usual, but I will say you will learn about safety syringes in Puncture; and you will be glad someone invented them. The lead actor, Chris Evans, deserves the main focus of this review because many are used to him playing superheroes and not this type of role. He plays a character that I didn't like and liked at the same time. That is very difficult to pull off, and he did it so well that I am still trying to figure out if the like outweighs the dislike or vice versa. Bottom line, Chris Evans plays a drug addict. A fairly functional drug addict but he had more vices that will just rub you the wrong way. For example, he's unfaithful, selfish, and arrogant. Plus, he's a charmer, an ability that you know he uses to make people deal with his negative attributes whether they want to or not. Anyway, he and his partner take on a new client and his character's drive to "win" the lawsuit is where everything gets muddy. As you watch Mike Weiss (Chris Evans) pursue his case, it is unclear what drives him to win the case: obtaining justice or he just has to win because he is so competitive. Or was it the drugs? Watching someone doing his job high as a kite on pain killers and cocaine and unable to quit was disheartening. Chris Evans was so good in this role that I forgot about the other characters he has played. There was one scene when he is in a politician's office and his reaction to their words gave me goose bumps. Despair, desperation and conviction were all portrayed within the short scene and it was very powerful; and Chris Evans deserves some accolades for this part. Puncture wasn't an easy watch but worth it. There is a line in this film that really stuck out for me, "Sometimes the brightest light comes from the darkest places." A wonderful line that I hope inspires people as it inspired me. Directed by Adam Kassen, Mark Kassen, Cherry Sky Production, 2011 Starring: Chris Evans, Mark Kassen, Vinessa Shaw, and Brett Cullen Genre: Drama My favorite thing: Chris Evans. He was truly wonderful in this film. A great performance. My least favorite thing: That this story is true - especially about the needles. Rating: R Length: 100 minutes Review: 7 out of 10
Tired of Previews
Super Reviewer
Puncture Quotes
| | |
| --- | --- |
| Vicky: | ust because we can't really get over the dark parts, doesn't mean we can't get to the good ones. Sometimes, the brightest light comes from the darkest places. |
| Vicky: | Just because we can't really get over the dark parts, doesn't mean we can't get to the good ones. Sometimes, the brightest light comes from the darkest places. |
| | |
| --- | --- |
| Nathaniel Price: | I bet you spent your whole life believing that you, you were born to do something great, make a difference, do something special. Important. But Michael, it's the most ordinary thought anybody ever had. |
| Mike Weiss: | I'll see you in court. |
| Nathaniel Price: | Well, it might be difficult since your client and partner already accepted the offer. |
| Mike Weiss: | You're right. You might have settled with them, but you haven't settled with me. I'm gonna travel the country making every hospital worker who's ever been infected by a needle stick my client. Every mother who's lost a child, every child who's lost a parent...I'm gonna put them on the stand, and I'm gonna tell them your client has a needle that could have prevented it from ever happening, but he keeps it locked up because it costs too much to make. Trust me, you're about to see just how ordinary I can be. |
| | |
| --- | --- |
| Nurse Vicky Rogers: | sometimes the brightest light comes from the darkest places. |
| Nurse Vicky Rogers: | Sometimes the brightest light comes from the darkest of places. |
| | |
| --- | --- |
| Mike Weiss: | You might have settled with them, but you haven't settled with me. |