Pussy Riot- - A Punk Prayer
(2013)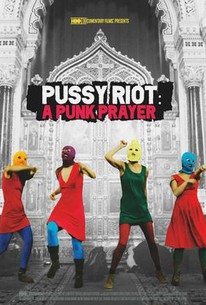 Pussy Riot- - A Punk Prayer Photos
Movie Info
Filmed over the course of 6 months, this documentary tells the incredible story of 3 young women: Nadia, Masha and Katia. But who is really on trial in a case that has gripped the nation and the world beyond - young artists or the society they live in? (c) Official FB
Critic Reviews for Pussy Riot- - A Punk Prayer
Audience Reviews for Pussy Riot- - A Punk Prayer
½
Following the feminist punk group Pussy Riot, this documentary shows their capture and conviction by the Russian government after a protest in a famed cathedral. Originally produced by Roast Beef Productions, and released on HBO, it has brought worldwide attention to the plight of the three women sent to prison for simply stating truths of their country, a place where freedom of speech is easily stifled. Read more at http://www.bluefairyblog.com/reviews/2015/7/21/pussy-riot-a-punk-prayer
Spencer S.
Super Reviewer
What the documentary "Pussy Riot: A Punk Prayer" does extremely well is going beyond just the facts of the case of three of its members, Maria Alyokhina, Ekaterina Samutsevich & Nadezhda Tolokonnikova, of the title punk band who were jailed in Moscow on charges of hooliganism after a protest song in a Moscow cathedral.(Nadezhda's father is an early front runner for the coolest dad of the 21st century.) That starts with there being not only more people involved in that fateful protest than just those three, but in others in and around Moscow, which also includes the ever popular of kissing of police officers, all the while wearing colorful balaclavas, in response to Vladimir's reelection/stranglehold on power. After which, they returned to their secret headquarters to plot more hijinx. To its credit, "Pussy Riot: A Punk Prayer" also captures the anger from the other side of the Russian Orthodox Church which also manages to hang itself with sexism from about the 13th century in its referencing witches and demons that goes beyond just having a problem with the band's name.(Admittedly, though, if you are going to exile them to an island, then Manhattan's really not a bad place.) All of which is in a modern day Russia which only creates disorder by keeping order by force(as one band member put it, the state lost by winning and bringing so much international attention to the case) and that really has to find a better way to balance religion and state for once which was the whole point of the protests in the first place. On another note, I am definitely warming up to Pope Francis the Cool.
[img]http://www.citylights.com/html/WYSIWYGfiles/files/PussyRiot.jpg[/img] This movie which debuted at Sundance Film Festival, chronicles the rise of the Russian feminist punk-rock collective, their outspoken defiance of Putin, and shocking imprisonment. Filmmakers Lerner and Pozdorovkin started shooting in March, just prior to the trial, and finished on 10th October, leaving them only two months to edit the film in time for the 2013 Festival. Since Pussy Riot was steeped in performance art, there was a wealth of self-shot footage available-including their cathedral tune-up session. The best news was that the Russian government decided to film the trial with as many as five cameras, which proved a godsend for the filmmakers. But what really attracted them to the curious case of Pussy Riot was that this is not only a film about Russia - it can easily become a documentary about all of us. It deals with the allowable limits of free expression, and similar issues can be found in US as well as in China... or any other country in the world. Because pushing the boundaries of allowable dissent could be fun... until you cross that boundary... after that everyone gets a very severe reaction! Very controversial and radical approach to a wake-up call! The director Lerner stated: "They are the beginning of a new feminist revolution in Russia, and one really hopes that they inspire others around the world to take those ideas and say, 'Why the fuck not? The time has come.'" Food for thought!
Pussy Riot- - A Punk Prayer Quotes
There are no approved quotes yet for this movie.