Quel maledetto treno blindato (The Inglorious Bastards)
(1978)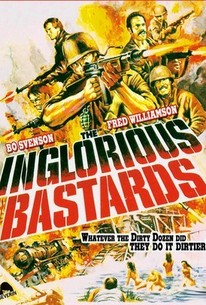 Movie Info
The Inglorious Bastards was the alternate title for the Italian adventure yarn Counterfeit Commandos. The main characters are five soldiers facing court-martial in World War II France. The quintet consists of Bo Svenson, Fred Williamson, Peter Hooten, Michael Pergolami, and Jackie Basehart. The men escape, heading to the safety of the Swiss border; along the way, they pull off several random acts of above-and-beyond heroism. ~ Hal Erickson, Rovi
News & Interviews for Quel maledetto treno blindato (The Inglorious Bastards)
Critic Reviews for Quel maledetto treno blindato (The Inglorious Bastards)
Audience Reviews for Quel maledetto treno blindato (The Inglorious Bastards)
An outrageously entertaining and totally bad-ass action-packed adventure. It's very funny and explosive. It has some great characters and some solid performances from its cast. Fred Williamson and Bo Svenson are fantastic, they have great chemistry and are a great pair. A classic action flick that's wild, sharp, action-packed, hilarious and incredibly fun. One hell of an insanely enjoyable war movie. They don't get more fun or entertaining than this film. Director, Enzo G. Castellari crafts a great piece of work that delivers. A great men-on-a mission adventure.
Title inspiration to Quentin Tarantino's war epic, Inglourious Bastards is a macaroni combat film with a Dirty Dozen flavor. Action packed, thrilling and lots of fun, this action classic is a fun ride from beginning to end. Though not perfect, this film is still a classic example of an 70's action flick done right. Enzo G. Castellari delivers a film that is similar to the Dirty Dozen, but that doesn't stop this film from being entertaining. This film is overlooked, and actually heard of it when Tarantino's film of the same name was released. Bare in mind that the two films only have the title in common. Anyhow, Castellari assembles some terrific talent here, Bo Svenson and Fred Williamson being the more famous names here. Inglourious Bastards is an action packed film with plenty of thrills and solidly built action scenes (considering that this is an Italian film) There are many memorable scenes including the train assault scene and the castle scene. The film for the most part succeeds on being quality entertainment, but there is of course a feeling that things could have been done better. Overall this is a good, entertaining action film that shouldn't be overlooked. This is one of the best action films of the late 70's and despite the flaws, its a fun viewing experience.
½
A group of military convicts escape behind enemy lines when their convoy is attacked, and when they accidentally kill an undercover commando unit they decide to take over their mission. The Dirty Dozen meets the A Team in this exploitation war flick that won't win any awards for subtlety. The script is episodic, characters stereotypical and production value TV standard, but what it has is action in spades. It's like a typical boy's own war film with a bit of gratuitous nudity, swearing and blaxploitation thrown in, the latter provided by Fred Williamson (who you may recognise from From Dusk Til Dawn) playing the usual "I don't take no shit from nobody!" bad ass who is inevitably constantly riled by the usual redneck wise acre played by Peter Hooten, who is possibly the worst actor in the known universe. Add the least convincing romantic interlude you are likely to see and sophistication is clearly not this film's strong suit. If you like plenty of explosions, gunfire and men in Nazi uniforms being flung through the air left, right and centre, this fits the bill, but if you're interested just to see the "original" of Tarantino's film then don't bother. This has nothing to do with it.
Quel maledetto treno blindato (The Inglorious Bastards) Quotes
There are no approved quotes yet for this movie.