Rabid Dogs (Cani arrabbiati) (Kidnapped) ( A Man and a Boy)
(1974)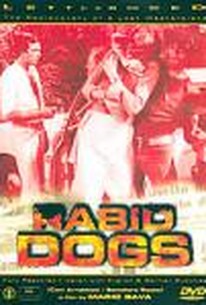 Movie Info
An unreleased suspense thriller from Italy's master of horror and fantasy, Mario Bava, Rabid Dogs makes its belated debut in this special DVD release. When a bank robbery goes awry for a pair of violent criminals, they take an innocent woman hostage, who must fight for her survival. Shot mostly inside a speeding car, this tense and claustrophobic drama was filmed in 1974 (five years before Bava's death), but shortly before completion the death of one of the principal financiers threw the project into limbo. In 1998, the film's elements were rediscovered and editing was completed using Bava's notes as a guide; the result is a film that takes a decidedly modern detour from Bava's traditional Gothic subject matter and gives a much broader perspective on the range of his talents. A few years later, the film was reworked and retitled Kidnapped for a brief theatrical run in the U.S. That version of the film would later be released on DVD by Anchor Bay, with the original, Rabid Dogs cut included as supplimental material. Curiously enough, the version of Rabid Dogs featured on the Kidnapped disc still differs from the version of the film previously released by Lucertola. ~ Mark Deming, Rovi
Critic Reviews for Rabid Dogs (Cani arrabbiati) (Kidnapped) ( A Man and a Boy)
Audience Reviews for Rabid Dogs (Cani arrabbiati) (Kidnapped) ( A Man and a Boy)
Financial problems kept this film from being finished, but the rough cut as released in 1997 is a great B-movie with scrappy editing that compares to some work by Peckinpah and Siegel. There's not much beauty of movement like in Peckinpah. There a few panning shots of the car that I think bore the eye and a few more long takes that are brilliant. Bava uses zoom work for soft dramatic punches, and dramatic close-ups, sometimes framing two characters. The movie is not in real time, as some critics have reported, but some sequences seem to be. The horror-show car ride means to but does not illustrates the depths of human degeneration as effectively as Deliverance or The Last House on the Left, in which the seasoned homicidal maniacs despoiled pure innocence so completely, they wanted to wash up afterward. The stand-in for innocence here is not a real character but a swaddled child that we glimpse occasionally, in cutaway close-ups that would fit in Griffith's melodramas. But the subtext here is not as much about human evil or human animalism as it is about capitalism, opportunity and communal authority. If you pay attention to the small details of Backy, Poli and Cucciolla's performances, you learn a lot about becoming unconfident when crossing lines of conduct or seeing them crossed -- what it can do to anyone, from the career criminal to the middle-class working man. Standards of behavior, and social decency, are important ideas in this movie, but more important is whether an individual keeps himself together when he witnesses any of his standards bent to the breaking point.
Adam Mahler
Super Reviewer
½
Fleeing a bloody payroll heist, three criminals abduct two adults and an unconscious, possibly dying child. Basically a five character hostage drama set almost entirely inisde a cramped car, strong characterizations make this involving despite plot holes and a too-obvious twist ending. Beware the inferior re-edited, re-dubbed version entitled KIDNAPPED.
½
Sweltering and disturbing. One of Bava's finest hours.
Anthony Valletta
Super Reviewer
Rabid Dogs (Cani arrabbiati) (Kidnapped) ( A Man and a Boy) Quotes
There are no approved quotes yet for this movie.