The Rage: Carrie 2
(1999)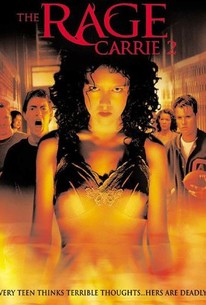 The Rage: Carrie 2 Photos
Movie Info
In this film, the boys on the high-school football team compete to see who can seduce the most girls. When Rachel Lang's friend commits suicide after becoming a victim of this game, Rachel plans to go after her victimizer. Little do her fellow students know that Rachel is telekinetic.
People Who Like this movie also like
Critic Reviews for The Rage: Carrie 2
Audience Reviews for The Rage: Carrie 2
This film offers nothing new, and plays out like a case of been there done that. The result is a bad film with a poor script and a low budget vibe. This film relies more on the gore elements this time around, and focuses less on the story, not that it matters because when it does, it navigates familiar territory that becomes predictable. The film suffers greatly due to its bad cast and poorly written script. The film is a pointless unnecessary sequel. I've thrown that term around quite a bit in describing horror sequels, but this is true with The Rage. I thought the film was bad with little substance. The film tends to play more on the gore effects. Director Katt Shea is more focused on grossing out the audience than scaring it. Considering that this is a sequel to a horror classic, you'd think that they would make it good. Unfortunately the result is a film that misses the mark and is a victim of its own conception because of the fact that it relies on gore and other assorted special effects. If more attention would have been given to its story, then the film might have been better, but it's not to be. The film has a high body count and if you love gore, you may enjoy this film. But to those whore are expecting a film like Carrie, you'll be sadly disappointed. The Rage plays out like a gore fest with slasher film elements due to a high body count. Nothing original is at work here, thus fans of the classic film will find this film pointless, stupid and a slap in the face of the original.
½
yea so ive never heard of Emily Bergl but apparently thats the girl who played Carrie. and well i saw this a few times when i was little and it scared me cause id never seen violence before, but that doesnt mean its that good... one good scene tho: she telepathically squeezes this chicks eyes til they bleed out of her head and then that girl accidentally blows off the balls of that kid from Home Improvement (not J.T.T.) with like a harpoon or something. yea that kicked some ass
Coxxie Mild Sauce
Super Reviewer
½
A 90's sequel to "Carrie" with a new girl Rachel (Emily Bergl), another girl with telekinetic powers, sruggling to fit in with her peers. It's a sad story. The final massacre of the classmates is spectacular. Amy Irving makes a great appearance, as the only survivor from the first movie. I found this movie too sad.
Lafe Fredbjornson
Super Reviewer
The Rage: Carrie 2 Quotes
| | |
| --- | --- |
| Eric: | What's a coyote date? |
| Chuck: | You don't know? |
| Mark: | That's when you wake up in the morning, some ugly chick sleeping on your arm...and you'd rather gnaw it off than have to wake her up. |
| Mark: | That's when you wake up in the morning, some ugly chick sleeping on your arm and you'd rather gnaw it off than have to wake her up. |
| | |
| --- | --- |
| Barbara Lang: | You can't...have my daughter. |
| Barbara Lang: | You can't, have my daughter. |
| | |
| --- | --- |
| Arnie: | Love is 15 seconds of squishing noises. |
| | |
| --- | --- |
| Mark: | Rachel, listen. That Lisa girl - She had these pictures that have what you might call sentimental value. I figured 20 bucks ought to cover it...What do you want, 30? |