Raiders of the Damned
(2005)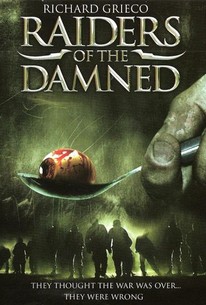 AUDIENCE SCORE
Critic Consensus: No consensus yet.
Raiders of the Damned Photos
Movie Info
When a team of scientists crash lands in a post-apocalyptic wasteland overrun by flesh-eating cannibals, it's up to an elite military ops team to rescue them from certain doom and ensure the survival of the human race in this nightmarish tale of a world fallen to ruin. World War III has unleashed an unparalleled devastation on all of mankind, and as the fighting reaches a fever pitch a biochemical weapon is unleashed that turns lifeless corpses into unrelenting zombies. When a helicopter carrying the group of scientists who may hold the key to human survival crashes in the most zombie-infested region in the country, Dr. Lewis (Richard Grieco) and his team of battle-hardened soldiers must rescue them quickly or die trying.
Critic Reviews for Raiders of the Damned
There are no critic reviews yet for Raiders of the Damned. Keep checking Rotten Tomatoes for updates!
Audience Reviews for Raiders of the Damned
½
Got this one added to Flixter meself! Anyways, regular readers know I'm zombie-obsessed, so I watch every zombie movie out there. To say, "I've seen worse zombie movie"s sets a new bar for mediocrity, but I have seen FAR worse than this. The script is at least reasonably tight, the main zombies don't look great, but some of the effects implemented are well done. I like Greico's creepy insane scientist. The 'sleeping zombies' scene is pretty cool. Most low budget zombie movie have annoying combat outfits, but I actually like their rigs with the little green glow glasses, though some other zombie reviewers really didn't like the combat uniform design. I like the little cast of stereotypical characters sent out to attack the 'zombie base'. The best part of this movie is the underground survival base occupied by the remaining living humans of the military. The acting is better than most major release Dimension films. There are some zombie with nunchucks if you like that. And the eating scenes that are there are filmed well. with so many sloppily edited straight to dvd zombie flicks flooding the market nowadays, this is one of the few that is not only watcheable, but worth ripping the dvd when you're done renting it (good luck finding something this obscure for download, unless it's a seed of mine ;), and I was able to watch it in one sit-down. Usually I've got to give up twenty minutes in for most cheesy zombie movies. Also I do think the makeup for the main antagonist IS one of the few effective jobs, perhaps because of the contacts and the actor's ability, but I was genuinely scared by his makeup job combined with the angles and lighting.
_kelly .King
Super Reviewer
Raiders of the Damned Quotes
There are no approved quotes yet for this movie.