Rat Pfink a Boo Boo
(1966)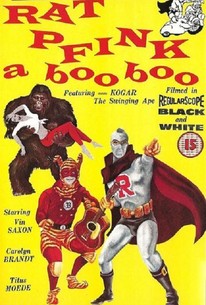 AUDIENCE SCORE
Critic Consensus: No consensus yet.
Movie Info
Lonnie Lord (Vin Saxon) is a rock & roll star who sells millions and loves to sing, anywhere and anytime. When a trio of psychotic hoodlums kidnaps his girlfriend, Cee Bee Beaumont (Carolyn Brandt), Lonnie and his faithful gardener sidekick, Titus Twimbly (Titus Moede), know it's time for action. They step into a closet and emerge as Rat Pfink and Boo-Boo, two costumed crime fighters who bear more than a passing resemblance to Batman and Robin: "Together they blaze a four-fisted campaign against the enemies of truth, justice and the American way of right!" They track down the evil doers and rescue the distressed damsel, but an escaped circus gorilla is on the loose and soon Cee Bee is in danger again. This bizarre low-budget mixture of crime drama and superhero spoof features great rockabilly non-hits like "Big Boss A-Go-Go-Party" and "Running Wild."
Critic Reviews for Rat Pfink a Boo Boo
Audience Reviews for Rat Pfink a Boo Boo
½
What happens when a filmmaker (a term that I use here loosely) who never writes scripts gets bored with his so-called suspense movie and suddenly decides to make a superhero picture? Why, you get Ray Dennis Steckler's "Rat Pfink a Boo Boo!" A film known not only for being misnamed (It was supposed to be called "Rat Pfink AND Boo Boo," but the guy who did the graphics screwed it up), but also for being one of those "so bad it's kinda good" movies, this feature hits and misses in so many terrible ways, it's hysterical. Too bad MST3K never got their hands on this one. It's hilariously awful!
What a load of crap, and totally hysterical. Dennis Ray Steckler rivals Ed Wood in his dedication to his craft, pointless as it seems.
Of the RDS films I've seen, this, along with The Thrill Killers, is my favourite. It just has great 60s B-movie flair and seems to me, anyway, super original. You can tell Steckler just wanted to make a film SO bad and did this, which was apparently made for $20. That's a real inspiration. This little gem is also quite atmospheric, especially in the opening scene, and the soundtrack fucking kicks ass. I also love the rendition of the motorcyle and bitch cab idea, where the hero stands in the bitch cab and points to their destination...who's the bitch now. That aspect definelty made for great laughs. As Steckler says in the intro, this is a real good film for aspiring film makers.
Patrick Dolan
Super Reviewer
Rat Pfink a Boo Boo Quotes
There are no approved quotes yet for this movie.