Raw Force
(1982)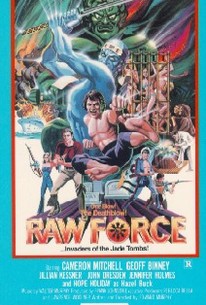 AUDIENCE SCORE
Critic Consensus: No consensus yet.
Movie Info
When the Burbank Karate Club embarks upon a relaxing cruise, the last thing they expect to encounter is hippie smugglers, white slavery, and man-eating monks looking to raise Karate masters up from the grave, but they do in this lively and decidedly off-beat and campy Hong Kong martial arts adventure.
Critic Reviews for Raw Force
Audience Reviews for Raw Force
½
Sooooo this is a really weird low budget crap-fest that doesn't let up on its invasion of your attention. This is really a fun movie to watch with friends maybe due to the less than B-Movie acting, or the weird Hitler type villain. I really kind of enjoyed this mad romp. This is my first horror film from the Philippines. The story line jumps everywhere and it makes this film that much more enjoyable. The movie has something to do with a group of Martial Arts instructors (Douche-bags) on a cruise to Spider Skull island or something like that (Warriors Island). Little do they know that on this island is where a group of really insane, and im talking bat shit crazy, monks control the Zombies of past fierce Martial Arts Warriors. What gets defecated on to film is one and a half hours of Exploitation and general craziness. If you are a hardcore fan of scary movies this really wont do anything for you as its not very scary and has minimal amounts of fright. It does have buckets of blood and gore and really cheesy kung-fu scenes. All of this + some of the best mustaches on film, give this flick a 5 out of 10. A Smile a Wink & a Nod Sid
Brandon Siddall
Super Reviewer
Possibly the greatest film of all time. Seeing this is kind of like seeing the Godfather for the first time, only with more wacky asides. Kung Fu, evil cannibalistic monks who laugh evilly and clap and grin and disgraced ninja and samurai zombies make this a sure fire winner. Add to that a craaaaazy Hitler lookalike and swingin' seventies folk and I weep when I think that the TO BE CONTINUED card at the end was never followed up on. I mean, there's over 10 hours of LOTRs for movie lovers, but only 85 minutes of this? There is no justice. And also, who the eff is that in Cameron Mitchell's actor picture? He was the Toolbox Murderer for cryin out loud. C'mon Flixster, show some respect! And also do something about that "Stop watching bad movies" bi-heading you got, there's some folk who loves 'em... and (segue back to original topic) they'll love this one for certain. It's awesome to the extreme!
Christopher Brown
Super Reviewer
½
This is a bad movie but it's really great if you're into Grindhouse type flicks. The dialogue is weird and funny, and it's only 86mins but the middle drags alot but has alot of weird dialogue to keep it going. It really all hangs in the last 30mins or so when the monks, criminals, zombies, and touring martial arts people all come to a head.
Patrick Dolan
Super Reviewer
Raw Force Quotes
There are no approved quotes yet for this movie.