Razorback
(1984)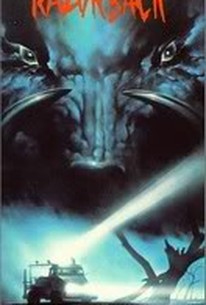 AUDIENCE SCORE
Critic Consensus: No consensus yet.
Movie Info
Before he directed the cult classic Highlander (1986), music video creator Russell Mulcahy adapted this stylish, tongue-in-cheek horror film from the novel by Peter Brennan. Gregory Harrison stars as Carl Winters, a grief-stricken American husband who has come to a remote corner of Australia to seek answers in the death of his wife, a TV journalist who was investigating a story on kangaroo poaching. Carl meets Jake Cullen (Bill Kerr), a man obsessed with hunting down what he says is an enormous razorback boar that consumed his grandson. Although he was acquitted, most of the locals believe that Jake murdered the boy himself and invented the crazy story about a giant pig. Jake tells Carl that he believes the razorback is also responsible for his wife's death. At first skeptical, Carl becomes a believer when he encounters the beast. He and Jake track it to a dog food processing plant, where the owners are illegally butchering kangaroos for industrial use. The factory operators are also feeding the dog food to the gigantic razorback, increasing its size and carnivorous appetite. Joined by farmer Sarah Cameron (Arkie Whiteley), Carl and Jake set out to kill the powerful mutant. ~ Karl Williams, Rovi
News & Interviews for Razorback
Critic Reviews for Razorback
All Critics (4) | Fresh (3) | Rotten (1) | DVD (2)
Rarely as fun or exciting as its premise might've indicated...
Jaws with a wiggly tail! Ferocious and Fun!
October 26, 2008 | Rating: 3/5
The atmosphere of the Australian Outback makes this a decent oversized-creature-on-the-loose thriller.
October 8, 2005 | Rating: 3/5
Audience Reviews for Razorback
½
Boars can be downright merciless in their choice of victims as exemplified by the superlative B-movie 'Razorback'. The carnivorous boar in question eviscerates a pregnant woman, a toddler in his crib and worst of all, a vintage television set. Each attack is staged like an earthquake with the boar stampeding like a snarling freight train while the tremor-induced camera shakes uncontrollably. More than anything else in this rollicking offering from the Australian outback, the sun-dappled, orange-tinted cinematography is inimitable. It could almost be described as one of the most picturesque exploitation movies ever made. Of course, the film is chockful of hoary cliches like the barroom xenophobia of the local towards the American outsiders and the Robert Shaw-esque hunter with a revenge bent against the pernicious critter ("There are only 2 states of being-dangerous or dead."). There is also a jaunty dose of satirical bite around animal rights activism and whether these notably non-docile creatures need the crusading vocal support of people. The kamikaze visual energy of a young Sam Raimi sustains the film's momentum through a somewhat soggy midsection that prematurely introduces a love interest after the main character's wife has just been gored. Overall though, 'Razorback' is a rip-roaring juggernaut in the usually shallow pool of man-vs.-nature creature features.
Cory Taylor
Super Reviewer
Creature feature films are always a good bet when it comes to deliver terrific mindless entertainment. Razorback is one of the best films in the genre. I've seen my fair share of films in this genre, and this is one of the most memorable pictures in the genre. There have been plenty of great movies in the nature gone wild genre; many of them bring original thrilling ideas to the screen. Razorback is a stellar film in the genre, and there are some truly chilling scenes before all the carnage caused by the razorback itself. There are some pretty good performances here and director Russell Mulcahy crafts a solid horror picture that steadily builds up the fear in the viewer. Mulcahy would later direct the cult hit Highlander, but Razorback is one of his standout films. This is a well crafted film that is sure to please genre fans. In terms of killer creature films, Razorback is a stunning film that definitely warrants a view from viewers that enjoy films such as Jaws, Piranha, Alligator and countless others. The film is aided by terrific atmosphere, which add to the enjoyment and tense experience of the picture. In the nature gone wild genre, there have been many great films, but Razorback is exceptional. Director Russell Mulcahy opts to direct a more serious film that we've previously seen in this genre, and gives us a movie that generates the tension, with good performances and a memorable creature that creates the carnage. This is one of the darker films I've seen in the genre, and in turn is among the finest as well. There are plenty of bone chilling moments to be had with this one, and Razorback is one of the most surprising Aussie films of the 1980's. Razorback is a great film with a truly unique villain, a giant razorback wild boar. That may sound a tad silly, but there's enough serious material at work on-screen to make this one a standout horror feature. Definitely worth checking out if you love nature gone wild horror films.
Great movie, bad giant pig.
Ken Stachnik
Super Reviewer
Razorback Quotes
| | |
| --- | --- |
| Dicko Baker: | (bennny knocks jake cullen out) What'd ya go and do that for..he's not gonna feel it now! |
| Dicko Baker: | [Bennny knocks Jake Cullen out] What'd ya go and do that for..he's not gonna feel it now! |
| Benny Baker: | He'll feel it enough when he wakes up! |
| | |
| --- | --- |
| Jake Cullen: | somethin about blowin the shit out of a razorback, brightens up my day! |
| Jake Cullen: | Somethin' about blowin the shit out of a razorback, brightens up my day! |