Real Time
(2008)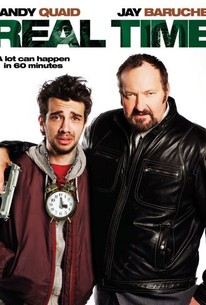 AUDIENCE SCORE
Critic Consensus: No consensus yet.
Movie Info
Randy Quaid and Jay Baruchel star in writer/director Randall Cole's comedic drama detailing the unique relationship between a compulsive gambler, and the coolly detached hit man assigned the task of taking him out. Andy (Baruchel) is an excitable gambler who has incurred one debt too many. When stoic hit man Reuban shows up to kill Andy, his target's initial reaction is disbelief. It soon becomes obvious that this is no joke, however, and now with less than sixty minutes to live the desperate Andy does his best to squeeze as much living into his final hour as possible. From one final session with a prostitute to a chance to get revenge on a former boss and a desperate search for a missing childhood toy, the bizarre series of final requests made by Andy prompt both the trigger man and his target to realize that there is more to their lives - and their current missions - than surface impressions would indicate.
Critic Reviews for Real Time
All Critics (4) | Top Critics (2) | Fresh (2) | Rotten (2)
Watching Baruchel and Quaid is the payoff in Real Time. But the repetitive, occasionally banal script lets them down.
The actors are good, but the dialogue only mediocre, leaning toward a kind of exasperated kookiness.
November 7, 2008 | Rating: 2/4

...the movie's final half hour [is] affecting and involving in ways that one might not have initially anticipated.
Audience Reviews for Real Time
With good actors like Baruchel and Quaid, Real Time, have an involving screenplay and a interesting direction, dispite the plot aren't original and the situation of both principal characters remind the three of The Last Detail, which Quaid act and win a Oscar nomination. Anyway, this film is entertaining, funny and moving, showing to the audience different actors of different genarations, but that have a good chemistry in the screen and surprise anyone, by the way is a original duo, that I never thing before: Baruchel and Quaid. The tension coming up to the climax and presents a unexpected end. Real Time is a good exemple of new art film that edge between comedy and drama. Fresh.
Lucas Martins
Super Reviewer
½
Great acting. The dialogue was interestingly written, but often unbelievable and written like a stage play. Randy Quaid's hitman character broke the lovable comic oafish type he normally plays (eg. Vacation movies, ID4, Quick Change). I appreciated the kid's losing streak throughout the story, when trying to escape his predicament. I watched eagerly to see what would happen when the hour ran out. I hate endings like that and didn't buy it, even though many of the events in the movie supported the resolution. Overall, interesting character piece.
Lafe Fredbjornson
Super Reviewer
½
A really, really black comedy...that has an ending you will not expect. I adore Jay Baruchel, probably the reason I was intrigued enough to see what this was. Could have been better, but altogether a pretty eye-opening film. BEST PART EVER. How much did you give her? A quarter, what's she weigh? Like 12 pounds? SHE FUCKING WEIGHS NINE POUNDS! [the hitman ODs his cat, classic]
Bannan instant enigma- just add water
Super Reviewer
Real Time Quotes
There are no approved quotes yet for this movie.