Red Beard
(1965)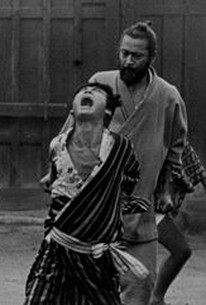 Movie Info
In 1820, young Noboru Yasumoto (Yuzo Kayama) completes his medical education in Nagasaki and returns to his native Edo hoping both to marry the daughter of a wealthy man and to achieve affluence himself through his medical practice. He happens to visit the famed Koishikawa clinic for the indigent, which is run by the autocratic Dr. Kyojo Niide (Toshiro Mifune), better known as Red Beard. To his intense displeasure, he soon finds himself assigned to the clinic for his internship. At first, the young intern is arrogant and rebellious, intent on displaying his knowledge of medical innovations and contemptuous of the older doctor for spending his life among the poor. But as time passes, he gains an intimate knowledge of the kind of suffering that is endemic to the impoverished, and at length, becomes an acolyte of this seemingly dictatorial physician, who heals his patients with gentleness and humility as much as with his medical skill.
Critic Reviews for Red Beard
Audience Reviews for Red Beard
½
Japanese movie, Japanese actors, Japanese sets and locations, so why does this film feel as if were shot on the Warner Brothers backlot? Yet it does AND like they did it, say, in the late 40's or early 50's. An arrogant young doctor learns humility thanks to charismatic elder sawbones. There's a ton of subplots too, and minor characters, but all in all still engaging.
Kevin M. Williams
Super Reviewer
Akira Kurosawa's three-hour masterpiece follows young doctor Noboru Yasumoto as he is sent to work at a public health facility. He had been trained overseas and was expecting to be the private doctor of the shogun, and so he's unpleasantly surprised when he finds out what his new assignment is. The doctor who he's replacing seems especially cynical: "These people would be better off dead" he says of the empoverished patients. Not only is he cynical when it comes to the patients, he's also cynical of the hospital's overseer, "Red Beard" (Toshiro Mifune). The older doctor paints horror stories for the new young doctor of their boss with the red beard, and Yasumoto tries to get thrown out of his position by rebelling against the hardened Red Beard. Much like the film, Captains Courageous, Yasumoto soon learns his boss isn't really a monster, but a great and kind (if gruff) man, as he's shown how to truly help his fellow man. Red Beard unfolds like a great novel, it takes it's time in giving nuance and depth to the stories of the patients the doctors help. I was wondering how they'd work in a fight scene for Toshiro Mifune, what with him being a respectable doctor and all, but they somehow managed it. Mifune is undoubtedly one of the greatest actors of all time (note, I didnt' quantify it by saing "greatest Japanese actor", his appeal extends beyond national boundaries), and yet here he's probably playing one of his lesser roles (despite being the title character). It's a terrific ensemble cast. Kurosawa directs with his usual flair, but here there are some unique touches that really jump out at the viewer. Most noteably the strange lighting effect used in the scene with the little girl who's rescued from the brothel, as she's recouperating in bed. The way only her eyes are lit creates an eerie, creepy effect. Red Beard is a touching, poignant, comedy, drama, tear-jerker that runs the gamut of emotions. One of the best films ever.
Devon Bott
Super Reviewer
"The pain and loneliness of death frighten me. But Dr. Niide looks at it differently. He looks into their hearts as well as their bodies." Kurosawa does such a magnificent job of infusing the virtues of decency and humanity into the story that they almost become concrete, tangible characters. The fact that Red Beard is rarely, if ever, listed as one of Akira's cinematic milestones has me a little perplexed. Highly underrated.
Randy Tippy
Super Reviewer
Red Beard Quotes
There are no approved quotes yet for this movie.