Red Joan
(2019)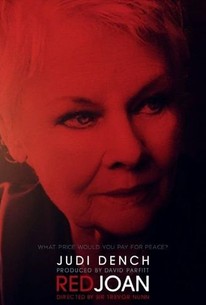 AUDIENCE SCORE
Critic Consensus: No consensus yet.
Movie Info
In a picturesque village in England, Joan Stanley (Academy Award (R) winner Dame Judi Dench), lives in contented retirement. Then suddenly her tranquil existence is shattered as she's shockingly arrested by MI5. For Joan has been hiding an incredible past; she is one of the most influential spies in living history... Cambridge University in the 1930s, and the young Joan (Sophie Cookson), a demure physics student, falls intensely in love with a seductively attractive Russian saboteur, Leo. Through him, she begins to see that the world is on a knife-edge and perhaps must be saved from itself in the race to military supremacy. Post-war and now working at a top secret nuclear research facility, Joan is confronted with the impossible: Would you betray your country and your loved ones, if it meant saving them? What price would you pay for peace? Inspired by an extraordinary true story, Red Joan is the taut and emotional discovery of one woman's sacrifice in the face of incredible circumstances. A woman to whom we perhaps all owe our freedom.
Critic Reviews for Red Joan
Audience Reviews for Red Joan
This story had the potential to be a sharp historical account of the development of the atomic bomb in the 1940s, if it had focused on interesting science, politics and espionage. The scenes with present-day Joan and her son deliver most of its substance and the key facts. The young Joan was inventing the bomb, a member of a secret wartime team of scientists, and she was also a Russian spy. However, the film treats her less as a cool head, and more as a slave to romance. Compare The Imitation Game - in this film, we needed greater details of 'the quickest mind in atomic physics'; and how she operated. Just as in life she was apparently treated as though she were invisible, or the tea lady, so the film skates over her importance. Even then, the romances are patchy, the sex scenes embarrassing. The other Russian spies are exceptionally beautiful, charismatic and glamorous; who would not have picked them out? Logical threads get fuzzy, the screenplay and editing jump around, with key plot devices introduced towards the end. People looking for a period piece will enjoy the lavishly produced English scenes, cars and clothing, plus hairstyles. People who want an insight into the events will get some. To understand Joan herself, you have to wade through all the padding, while it's the scenes with Dench that deliver the essence of the story.
Red Joan Quotes
There are no approved quotes yet for this movie.