Red Sparrow
(2018)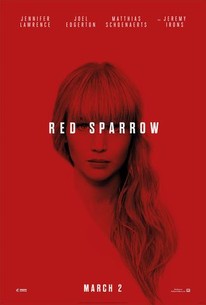 TOMATOMETER
AUDIENCE SCORE
Critic Consensus: Red Sparrow aims for smart, sexy spy thriller territory, but Jennifer Lawrence's committed performance isn't enough to compensate for thin characters and a convoluted story.
Movie Info
Dominika Egorova is many things. A devoted daughter determined to protect her mother at all costs. A prima ballerina whose ferocity has pushed her body and mind to the absolute limit. A master of seductive and manipulative combat. When she suffers a career-ending injury, Dominika and her mother are facing a bleak and uncertain future. That is why she finds herself manipulated into becoming the newest recruit for Sparrow School, a secret intelligence service that trains exceptional young people like her to use their bodies and minds as weapons. After enduring the perverse and sadistic training process, she emerges as the most dangerous Sparrow the program has ever produced. Dominika must now reconcile the person she was with the power she now commands, with her own life and everyone she cares about at risk, including an American CIA agent who tries to convince her he is the only person she can trust.
News & Interviews for Red Sparrow
Critic Reviews for Red Sparrow
Audience Reviews for Red Sparrow
½
A lot of people were making the instant comparison to the Marvel character Black Widow, and by the way the trailers were positioning this movie, I don't really blame them. However, there aren't a whole lot of similarities between the two besides the fact that the names consist of a color and an animal/creature. Red Sparrow is much more in the vein of a pure spy thriller than it is an action/spy/thriller. If I'm not mistaken, Jennifer Lawrence's character, Dominika, never throws a punch, besides one or two in defense. Dominika deploys a far more psychological and seductive approach to her enemies, and it actually ends up working quite well. I know some people questioned Jennifer Lawrence's devotion to the X-Men franchise after she "mailed in" her performance in apocalypse. I just don't think there was a whole lot for her to do in that role, but I never questioned her ability to act or her motivation to do so. Well, she undeniably goes for it in Red Sparrow. This isn't a typical role for her, physical and emotionally difficult, all while doing an entirely new accent. However, she makes it look easy and for the most part, leads a thrilling film. I will say, one of the faults of Red Sparrow is a common fault among spy/thriller/mysteries, which is the constant feeling that they need to keep one-upping every scene towards the finale. There are quite a few exciting twists that occur in the last act, but at 2hrs and 20min, it does feel like one too many at a certain point. The film can also get relatively slow at times and while the story is interesting and worth telling, you could make the argument it's more style than substance at times. I was never bored and it isn't exactly what I expected, but it's certainly not something we haven't seen before. That's good enough for me. 7.3/10
Thomas Drufke
Super Reviewer
Loved the character - so smart and strong! Story was a little dark and had a lot of twists to follow. I did have to look away at the skin part - that was gruesome! Quite enjoyable spy movie.
Nicki Marie
Super Reviewer
½
Movies that build up to something incredible can be forgiven for being slow throughout the majority of its duration. That being said, if your film is only mildly engaging and leads to a conclusion that feels overly complex for the sake of being overly complex, then I feel as though it has failed. Some viewers may feel differently and enjoy a calm film with a very slow pace and a cool twist to pay everything off in the final act, so I can see where some people may enjoy Red Sparrow, but I've seen this style of storytelling done far better on multiple occasions. For its unapologetic look at rape, manipulation, and seduction, here are a few of the many reasons why I think this one can easily be skipped if you're deciding between a few movies to see at the cinema. Following Dominika Egorova as she is sent by her uncle to attend a school to become a sparrow, Red Sparrow is about using your body as a weapon in order to seduce and manipulate criminals. The premise of this film is easily one of the more relevant when comparing it to today's climate, but comparing a movie to reality isn't the only thing that should make it worth watching. Yes, there are some truly graphic moments sprinkled throughout this movie and I can confidently say that they will turn off many audience members. With that said, not everything about this film affected me in a negative way. Jennifer Lawrence has always had a divided audience when it comes to her performances, and while I have enjoyed her in pretty much everything, for the most part, I'd almost go as far as calling this a terrific performance. This was her first time using a different accent in such a drastic way and for the most part, I wasn't distracted. Her performance, along with the unsettling chemistry that worked very well between her and Joel Edgerton, made this a bearable movie to sit through. As mentioned earlier, a movie can fall apart if your story is solely relying on impressing your audience in the final act, and that's exactly where Red Sparrow fails the hardest at accomplishing. The premise itself is engaging enough to keep you intrigued as to where it will all end up, but the third act of this movie tries too hard to impress its audience, using multiple twists that feel forced in order to bring closure to certain loose ends. I liked some of these loose ends being brought to a satisfying conclusion, but my biggest complaint is that this film didn't know where it wanted to go. Where this film shines is through its direction and cinematography. Although subtle, I feel as though cinematographer Jo Willems has crafted a unique looking thriller that takes you from point A to point B with visual ease. Director Francis Lawrence has worked with Jennifer Lawrence many times on the sets of multiple films in 'The Hunger Games' franchise, which is why I believe him to be a great director. His work has always impressed me in terms of getting great performances out of actors/actresses and Red Sparrow is just another example of that exact talent. In the end, Red Sparrow isn't really a film that I can recommend to anyone, especially in theatres. Sure, if you have nothing else to watch and you're a patient viewer, then you may get a kick out of certain sequences through the course of this movie. For the most part, I feel that the majority of filmgoers will either be bored or grow uninterested by the time the credits roll. It tries very hard to win you over in the third act, but I didn't fall for it. Red Sparrow has divided audiences around the world, and I seem to be right in the middle of all the criticism. I can see where people may enjoy it, but I can just as easily see why people are hating on it. If you're planning on checking this one out, I think renting may be the best option.
Red Sparrow Quotes
There are no approved quotes yet for this movie.