I'm Reed Fish
(2007)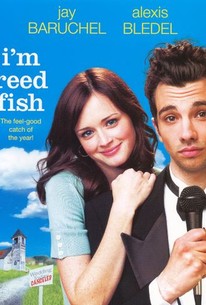 Movie Info
Reed Fish (Jay Baruchel of Million Dollar Baby and Undeclared) seems to be leading the life he's supposed to. He's followed in the footsteps of his late father, doing an early-morning radio show with the town's mayor, Maureen (Katey Sagal), through which the eccentric locals of Mud Meadows voice their complaints and have them addressed. He produces the show with his old high school buddy, Frank (Victor Rasuk), and he's engaged to be married to another high school chum, the gorgeous Kate Peterson (Alexis Bledel), whose dad (Blake Clark) seems to own every business in town. But Reed's plans are upended when his high school sweetheart, Jill (Schuyler Fisk), comes back to town. She's supposed to be away at law school, but she confides to Reed that she quit school years ago, and has been working as a waitress while she fruitlessly pursues a career in music. Reed encourages her to play on Open Mike Night at the local bar. He inspires her to find her voice, which leads to some complications in his relationship with Kate, forcing Reed to reexamine every aspect of his safe, secure life. I'm Reed Fish also features performances by DJ Qualls, Chris Parnell, and Shiri Appleby. The comedy marks the feature debut of director Zackary Adler, and had its world premiere at the 2006 Tribeca Film Festival. ~ Josh Ralske, Rovi
News & Interviews for I'm Reed Fish
Critic Reviews for I'm Reed Fish
Audience Reviews for I'm Reed Fish
As the plucky strains of an acoustic guitar played over the DVD menu, I mused wearily, "This looks delightfully indie..." because of course, "indie" can go terribly wrong. I'm Reed Fish does not. It's a captivating story about a small-town boy-wonder's quarter-life crisis. Deeply-felt performances, a beautiful original soundtrack, and quirky characters who aren't SO quirky that you want to punch them in the face. Schuyler Fisk is brilliant. I loved her as Kristy Thomas in The Baby-Sitters Club, and it's nice to see she's grown into a decent adult actress/singer. I just fell in love with her during her songs. The only qualm I have with this movie is the ending. Reed and the real Jill shouldn't have gotten together. We've spent the entire movie falling in love with fake Jill. Real Jill (played by a mousy Shiri Appleby) can't build up nearly enough charm in her brief cameo. If only Jay Baruchel, his face half-shadowed by a dusky lamp, would look me in the eyes and say, "Why aren't we together?" I think I could be happy for the rest of my life.
Alice Shen
Super Reviewer
Interesting idea for a film, being a movie a guy made about his life within a movie. I was pretty confused at first and found it hard to follow, also not too exciting. It improved as it went on, and I was glad I stuck it out. It is an unusual film and it won't be to everyone's tastes. Needless to say, my mother who likes her movies PG and spelt out, was bored crapless by this one.
Nicki Marie
Super Reviewer
I'm Reed Fish Quotes
There are no approved quotes yet for this movie.