Reel Injun
(2010)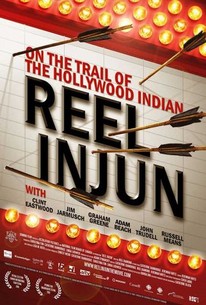 Movie Info
Native American and Aboriginal peoples have long played a part in Hollywood filmmaking, but the picture presented of them was not always flattering or accurate. Most westerns of Hollywood's Golden Age presented "Indians" as either ruthless savages with no sense of honor or fools who were lost without the help of the white man. (Adding insult to injury, they were usually played by white actors in make up.) However, as issues of Native American rights came to the forefront in the 1960s, more filmmakers stepped forward to offer a more positive and thoughtful portrayal of Aboriginal characters on screen, and Native American performers were given a greater opportunity to present the story of their people in television and the movies. Director Neil Diamond (a member of Canada's Cree community) offers a look at the past, present and future of Native People on the big screen in the documentary Reel Injun, which includes interviews with actors Adam Beach, Graham Greene and Sacheen Littlefeather, filmmakers Chris Eyre and Zacharias Kunuk, and artists and activists John Trudell and Russell Means; Clint Eastwood and Jim Jarmusch also speak about Hollywood's history and their own experiences in presenting Native Americans in their films. Produced in cooperation with the National Film Board of Canada, Real Injun was an official selection at the 2009 Toronto International Film Festival. ~ Mark Deming, Rovi
News & Interviews for Reel Injun
Critic Reviews for Reel Injun
Audience Reviews for Reel Injun
With the documentary "Reel Injun," filmmaker Neil Diamond seeks to explore the history of Native Americans in films, seeking to correct the record whenever possible, while undertaking a personal journey into the heart of America. To be honest, there are very few surprises here, as the story of Native Americans in Hollywood westerns is a familiar one, although taking John Ford down a notch is kind of refreshing. That's not to mention how inaccurate the films were that most people now consider curios of a past age, as they reflected the racism of a society that preferred a simple conflict in its movies. The documentary fares best when it gets away from such a broad approach to tell specific stories like the silent film, "The Silent Enemy." Even as there have been generational improvements in attitude, Hollywood has in reality changed little as Sacheen Littlefeather's protest at the Academy Awards has never been taken seriously. In fact, the best depictions of indigenous cultures are made in other countries and independently. For example, it is hard to imagine "The Fast Runner" being made any further away from Hollywood. However, with all the people the documentary talks to, why did they not talk to Sherman Alexie who not only wrote "Smoke Signals" but is also one very funny guy?
½
Director Neil Diamond explores the portrayal of Native Americans throughout the history of American cinema, exposing the racist stereotypes that films have perpetuated. it's hard for me to review this film. I think that I, along with most of the rest of modern American culture, am trained to pick at the negative with an almost knee-jerk quickness so that when I find a film with which I agree so heartily, I have little to say. Diamond's analysis is spot-on. Yes, the vast majority of John Wayne westerns are racist. Yes, Disney's Pocahontas is infantile and racist. Yes, Natives in film are either pre-modern savages or pre-modern hippies who have to make way, usually through their gruesome demise, for "civilization." Yes, yes, yes. The film lauds Native cinema by Natives, and it contextualizes Marlon Brando's public refusal of his Oscar to raise awareness of Native rights. The half-star off is because even though the academic analysis of American film is great, the road-trip story is half-baked and doesn't provide the through-line for the film that Diamond intended. Overall, Reel Injun is a fantastic analysis of Natives in film, and it should be required viewing in any film school.
Jim Hunter
Super Reviewer
½
An eye opening and thought provoking investigation into the evolution of Native American portrayals in film. Director Neil Diamond examines contemporary projects and revisits a few old classics on his way to exposing racial stereotypes and blowing up long held misconceptions about Aboriginal culture.
Randy Tippy
Super Reviewer
Reel Injun Quotes
There are no approved quotes yet for this movie.