Regular Lovers
(2005)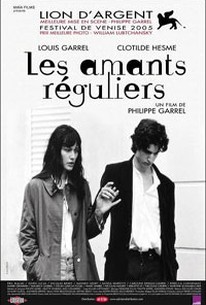 Movie Info
Touted in many circles as a response to The Dreamers (2003) -- Bernardo Bertolucci's ode to Paris in May 1968 -- Philippe Garrel's Regular Lovers (aka Les Amants Réguliers) explores the same events cinematically but undertakes a wholly unique aesthetic and temporal approach. The director follows his central characters, a young man named François and his clique of friends, as they experience the aftermath of the events and grapple with their attempts to understand what has just occurred. Garrel's familiarity with The Dreamers came by default; his son, Louis, starred in that earlier work, and plays François in this film.
News & Interviews for Regular Lovers
Critic Reviews for Regular Lovers
Audience Reviews for Regular Lovers
Les Amants Reguliers is a slice of French new wave in the 2000s. Phillipe Garrel's exploration, interpetration, re-creation of the golden age of French cinema, an homage and a love letter. Shot in exhuberant black and white, the film boasts almost magical composition and lighting, as well as an inequivocal New Wave pace. Anyone familiar with this movement will automatically feel identification and nostalgia. It reinvigorates the practice of deconstructing life in smaller and bigger pieces and putting together this alternative, but very real, understanding of it as cinematic truth. Garrel's concern is to reflect this truth. That is why the film is poetic but also crude at times. LAR is a contemplation of the May 68 revolution, but it mostly concentrates on the aftermath. Antoine and his friends, initially enthusiastic about producing change, about making their ideas prevail and winning the battle against the system, must face the disappointment of defeat and the challenge of real life. They were, perhaps, so centered on "the revolution" they never came up with a life project or a plan B. All they do is smoke opium and listen to music, finding moments of rapture that only enhance the emptiness of the rest of the day. Each of them seeks a separate escape, but each of them is a monumental waste of potential, dreams, and actions. In that sense, this film is tinted with sadness through and through. The epicenter of it all is Francois, played by Louis Garrel. He's a poet and a dreamer. He falls in disgrace along with the Revolution, but finds a lifesaver and a motivation in Lilie, a wide-eyed sculptress. They promise to teach each other things and accompany each other. They become partners and they fall deeper and deeper in love, but soon enough their own inconsistencies, the very ones that led them into their existential mess, surface to redefine their priorities. The ending is beautiful. Garrel structured it as a divine ascension. Francois, Antonie, Lilie, and all their friends, walk, from the beginning of the film, into a dark dead end street. What makes it special is the selection of events, the words, and the obvious nostalgia and empathy that Garrel feels for them. The choice of his son to play Francois was very accurate. Louis Garrel is a very talented actor, completely in tune with his misguided character and with his struggle to find happiness. The entire run is a bold one. Garrel does many unusual things that require patience, but in doing them he entices fascination and complete resonance with what is happening on screen. There are many long takes of students in barricades, burning cars and throwing bottles. For some reason, even in spite of their length they work. In a way, because there are many silences and extended takes, Garrel almost invites us to think, re-imagine, reflect, discuss. 3 hours long and not a second of boredom -for me-. An example of a filmmaker coming to terms with his past and his style, and a film so comprehensive of his life that it is difficult for any other human being not to find vague echoes of his/her own ideas, opinions, feeling, experiences, desires, if they will only sit still long enough to watch the entire thing. In whole, a very human film, and a stylistic success.
½
Bold cinema,you'd feel it was like some sort of nouvelle vague homage despite the monotony of the characters and their "rebellious" attitude.I was immensely surprised however by the self-destruction of the protagonist Louis Garrel (definitely talented) and the rest of the gang through the joy of life,opium,sex and lots of 60's hallucinatory references.A wonderful homage for whatever the case may be.
Dimitris Springer
Super Reviewer
½
[font=Century Gothic]"Regular Lovers" is a purposefully ambiguous movie about the youth culture of the late 60's in France with a special focus on the uprisings of May 1968. It is shot in black and white while the riot scenes take on a magic of their own, shot in near darkness with a flashback to the 1871 Paris commune thrown in(with a repeat visit near the end of the film). But there is little mention of any politics or what the students are fighting for.(In other words, there is more dilettantism than anarchism.) Or maybe they are fighting against turning into their parents while seeking a different way to lead their lives.[/font] [font=Century Gothic][/font] [font=Century Gothic]At the heart of the turmoil is Francois(Louis Garrel), a poet, who dodges the draft(It is not physical cowardice that drives this but a wish not to kill.) and participates fully in the riots. As 1968 turns into 1969, he gets involved with Lilie(Clotilde Hesme), a sculptor, who works at a foundry to make ends meet. But mostly what they do is hang out with a group of friends, and get stoned a lot.[/font] [font=Century Gothic][/font] [font=Century Gothic][/font]
Regular Lovers Quotes
There are no approved quotes yet for this movie.