Repo Chick
(2011)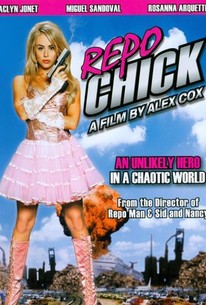 Movie Info
Iconoclastic filmmaker Alex Cox offers a unique look at California consumer culture in the midst of the post-millennium financial meltdown in this surreal comedy. Pixxi De La Chasse (Jaclyn Jonet) is a self-centered daughter of privilege who spends her days getting into one scrape after another and letting her wealthy family bail her out. But after too many parking tickets and auto accidents (and no inclination toward working for a living), her dad cuts off her financial lifeline, and in time her car is repossessed. While trying to get it back, Pixxi meets two professional repo men, Arizona Gray (Miguel Sandoval) and Aguas (Robert Beltran), and they think she has what it takes to do well in the repo trade. Soon the former rich girl is making good money taking back property from poor and middle-class folks who've fallen through the financial safety net, and Pixxi is able to indulge her passion for an entourage of hangers-on, including a full-time hair stylist. But Pixxi gets in over her head when she tries to reclaim a boxcar wanted by federal authorities and ends up captured by a band of terrorists who demand that golfing be outlawed. Also starring Rosanna Arquette, Karen Black, and Chloe Webb, Repo Chick was shot almost entirely using green-screen technology, allowing Cox to create an over-the-top visual style without building elaborate sets.
Critic Reviews for Repo Chick
Audience Reviews for Repo Chick
"Repo Man" -- one of the most quotable, funny comedies ever -- is an impossible standard to match and, not surprisingly, "Repo Chick" falls far short of its predecessor's twisted genius. Sad to say, the film isn't much good, period. Writer/director Alex Cox insists "Repo Chick" isn't a sequel, but this is dubious. Both films are about a young rebel crossing cultural lines to become an unlikely repossession goon. Both protagonists have parents who donate their child's earmarked funds to a worthless charity. Both plots include a lavish bounty offered for a vehicle containing glowing, government contraband -- in this case, a train car hiding six ultra-powerful bombs called "growlers." And while there are no returning characters from "Repo Man," as many as 11 actors come back in new roles. There's even a scene that reuses the memorable "green flash of X-ray radiation" effect. Pixxi de la Chasse (Jaclyn Jonet, whose only previous credit is another Cox project) is a taffeta-wearing, Paris Hilton-esque brat who stands to inherit $77 million from her strait-laced family of "rapacious oligarchs." She's a pseudo-entrepreneur who dabbles in multiple areas of music, cosmetics and fashion but has no reliable income. A trio of obnoxious scenesters are her faithful companions, but they're eventually replaced by a German haircut victim named Marco, possibly for no reason beyond one no-name actor being cheaper than three. None of these characters resemble the gritty, authentic punks seen in "Repo Man" -- they're more like the sanitized stereotypes who might pop up on "Hannah Montana." Pixxi's exasperated parents (Xander Berkeley, Karen Black) tell her to get a real job or forfeit her wealth. After her pink sports car is repossessed, she desperately hooks up with the "Velvet Glove Acceptance Company," a renegade outfit that reclaims not only cars but planes, boats, homes and factories. Even a space shuttle quietly rots at the far end of the impound lot. For no plausible reason, Pixxi immediately becomes the firm's top gun. Her mentor is played by Miguel Sandoval (mohawked Archie from "Repo Man"), who is a bland substitute for the absent Harry Dean Stanton. After Pixxi sees a flyer offering a million dollars for an enigmatic set of train cars, she ferociously dedicates herself to this pursuit. You may ask, "Why does a $77 million heiress need $1 million so badly?" Well, this logical hole also occurred to Cox, which is why he adds a wicked detail of Pixxi's parents transferring her money to an organization that provides misinformation about parenthood to the poor. Meanwhile, a clandestine faction in headsets and military gear -- always shot in black and white, heaven knows why -- also wants the train and keeps tabs on Pixxi's quest. The crew includes Olivia Barash (one-time child star and Otto's girl Leila in "Repo Man"). Pixxi eventually finds herself riding the coveted train, which has been seized by some nutty terrorists campaigning for veganism and the criminalization of golf (yeah, I know...the punchline isn't as funny as it should be). Essentially, the entire second half takes place within a single train car, and the movie just about dies in the process. The only joke that sustains the sort of absurd, random hilarity of "Repo Man"'s buried gags (the generic-food motif, "plate of shrimp," etc.) is Pixxi's ringtone: an apparent sample of a droning Tuvan throat singer. When this is your film's best laugh, you're in trouble. Actually, the most striking feature of "Repo Chick" has nothing to do with its story. This is among the strangest-looking films you'll ever see. The action is almost entirely shot with green screen, and when it isn't green-screened, it's pushing miniature sets and vehicles that are "Plan 9 from Outer Space"-unconvincing at a glance. All the scenes also occur during sunny daytime. The result is a candy-colored movie that weirdly recalls a low-budget children's show from the 1970s. Except Sid and Marty Krofft had more likable characters. The other returning "Repo Man" alumni aren't much fun to see, because none of the main stars have returned except Barash (not even Tracey Walter or Dick Rude, darn it) and their new characters are so different (and aged) that you'll be distracted just trying to recall whom they played in the first film. The most notable role goes to ex-Circle Jerk Zander Schloss, who plays a trenchcoat-wearing doctor with insider knowledge about the bombs. But between a hat, facial hair and ample weight gain, he's almost unrecognizable. The cast also includes Chloe Webb ("Sid & Nancy"), Rosanna Arquette and Cox himself in broad, cartoonish roles of little value. What's most frustrating is that the germ of a better idea was wasted here. If the story had focused on Pixxi repossessing homes, it might have been quite timely. Something with a chunk of topical relevance behind its humor. Instead, we're left with a silly trifle that barely earned a theatrical release. I can't believe I used to like these guys.
Eric Broome
Super Reviewer
½
Rosanna Arquette with a big facial scar was worth all the other failings. And there were quite a few. But the model trains and the cool green screen backgrounds were not among them. The story sputtered. At first presenting a blistering critique on the repo culture of bail outs and foreclosures amid the slog of wealthy celebrity. But the story lost focus on the train. A set back somewhere broke their pacing. While angela sarafyan blisters up those scenes, the rest of the hostages do little more than sit at the table and cry. What a shame Chloe Webb was not given more to do, she is impossible not to watch. The whole terrorist/ abolish golf theme was funny, but not enough to pull the movie's second act up to the first's promise. Innovative and cool looking film, i mean irregardlessly.
R.John Xerxes
Alex Cox's "Repo Man" is remembered if remembered at all as the Emilio Estevez movie with the punk soundtrack. Vague memories of downtown Los Angeles and neon green glowing car trunks might stumble toward your memory as well. Over a decade later, and still far under the radar Cox returns with an update for the 2000's with "Repo Chick". Repo Chick is the story of a disgustingly wealthy heiress named Pixxie who lives her life according to her parents in and out of clubs, police cars, and sandwiched between backup dancers. Her family has finally decided to disinherit her if she cannot find a job. Her only explanation is that "they be lying at my probation hearing". Her car is repossessed and when she goes to retrieve it, discovers that one of the members of her entourage is related to one of the repo men. Small world. Pixxie decides to claim her fortune by staying on as a "repo chick". Naturally her entourage is also trying to make a reality show about Pixxie's new life. Here the wafer thin rationality of the film ends and cartoon logic and the extremes of political parody take over. I should mention for instance that the film takes place in a future America where "the banks caused a housing crisis by selling homes to people who couldn't afford them", the country has collapsed to the point where the only remaining industries are the military and repossessions. Mounds of garbage litter the landscape like Mike Judge's "Idiocracy". The special effects amateurish and stylized; ultra-flat cartoon style backdrops filling out the scenery. Likely a reaction against the all encompassing 3d sheik that drives the multiplexes. How Pixxie goes about her repossessions is gloriously reduced to only reaction shots of people fleeing in terror. She repossesses football stadiums, malls, houses, beds from under sleeping children etc., or so we are told by Miguel Sandoval her guide to the world of repossessions. Sandoval is often a bit actor in other films, but Cox here as in his nativity farce "Three Businessmen" finds ways of using of his odd charms. The only real "action" in the film takes place aboard a train carrying several powerful authority figures (a senator, a media mogul, a religious leader, etc) which Pixxie tries to repossess (while the train is moving) only to become embroiled in a left-wing terror plot involving veganism and golf. The pleasures to be had from watching Repo Chick are in its unpredictability, the plot begins unhinged and proceeds into tatters from there. Pixxie's life as a model/actress/clothing designer/fragrance maker/and general purveyor of meaningless things make her an ironic choice for repossessions, now reclaiming the crap that she previously slathered her face onto. "This film is based on true events only the dimensions have been changed.", those dimensions of political satire, between the terrorists, the rich, the military, and the working stiffs waiting to repossess it all, have all been flattened to comic book dimensions both visually and comically. Repo Chick is trashy, clever satire aimed a culture that idolizes slick animation and soulless glamour, and that its attacks rarely get specific is also apart of its embrace of the modern flippant "psh whatever" ethos that empowers youth markets everywhere. The characters in Repo Chick handle there self-awareness with some wit, and in the final scene especially, a measure of grace. The humor wont work for everyone at times it failed to gather anything greater than bemusement, but the jokes that fail are forgotten, and the ones that endure are like junkyard treasures that instantly possess you to run out and show to all your friends. Repo-Chick is trash in rare form.
Joseph Sylvers
Repo Chick Quotes
There are no approved quotes yet for this movie.
Discussion Forum
Discuss Repo Chick on our Movie forum!