Report to the Commissioner
(1975)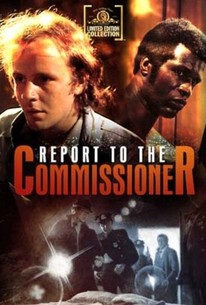 AUDIENCE SCORE
Critic Consensus: No consensus yet.
Report to the Commissioner Videos
Report to the Commissioner Photos
Movie Info
In this action-thriller Michael Moriarty portrays an NYPD rookie cop who gets caught in a department cover-up. Directed by Milton Katselas.
Rating:
PG
Genre:
,
Directed By:
Written By:
In Theaters:
Runtime:
Studio:
United Artists
Audience Reviews for Report to the Commissioner
The synopsis is off. This is not about a detective investigating a homicide, its about a detective who inadvertently commits a homicide. It's about the investigation of how that happened. (Hence the flashbacks.) The only bad thing about this movie is some of the revealing mistakes. They filmed a chase scene in which the "perp," played by Tony King, is running barefoot over roof tops. In order to prevent him or his stunt double from getting hurt, they put down pads on the roof. It's just possible that if you're caught up in the action you won't pay attention to that kind of detail. So that isn't enough to rate a rotten tomato. Michael Moriarty's voice is annoying in one of his first movies. From his later movies I realize that his voice doesn't have to be quite this annoying. He was pushing it deliberately. Yaphet Koto gives a terrific performance in this movie. The whole picture holds up surprisingly well.
Miles Fowler
I've been going through what I hope to be permanent changes lately. This means my priorities have been different and I haven't been going out to rent movies, relying on whatever my cable system serves up. After a few weeks I've discovered that approach doesn't get it. There's some good stuff on cable but precious little of the really way out, bizarro films I enjoy. So I went to Video Americain today and lived up to my profile by getting two movies that have never even been released in this country, Larry Clark's "Ken Park" and Peter Greenaway's "The Baby Of Macon". I saw a real whopper this morning, "Report To The Commissioner". I remember this film coming out with a lot of ballyhoo in the Seventies but nobody remembers it today, and with good reason, it's stupid. It's a bizarre story about undercover work gone horribly wrong and the resultant coverup, but there is a fatal flaw, the wog-boggling lead performance of Michael Moriarity who acts like a pre-Raphaelite flower child when he's supposed to be a rookie cop. It's ludicrous overacting and it's no wonder he spent several years doing Larry Cohen exploitation movies after this. The plot was strange in a couple of ways as well but a better lead actor and director might have worked out of it all. Instead we get two ludicrous chase scenes as padding, one with Moriarity chasing a black guy in boxer shorts over rooftops and one of a legless street beggar careening through Manhattan like a skateboarder! Some good actors here despite all that, Yaphet Kotto, Hector Elizondo, Vic Tayback, William Devane and Richard Gere as a pimp (!). There's an oddconnection knowing that twenty years later Moriarity and Kotto would be working in two excellent TV cop shows, Moriarity inder control as prosecuting attorney Ben Stone in "Law And Order" and Kotto as LT Giardella on "Homicide: Life On The Street".
Jerome Wilson
Report to the Commissioner Quotes
There are no approved quotes yet for this movie.