Resident Evil: Degeneration
(2008)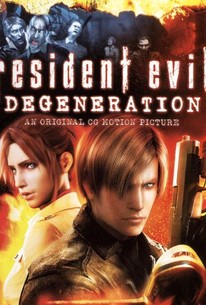 AUDIENCE SCORE
Critic Consensus: No consensus yet.
Resident Evil: Degeneration Photos
Movie Info
The survival horror saga continues in this original, computer animated feature film inspired by the popular Resident Evil series of video games and films. Seven years after Leon S. Kennedy and Claire Redfield fought the sinister Umbrella Corporation in Raccoon City, Harvardville Airport has been overrun by zombies. Now, as the deadly G-virus is released, and a mutated creature embarks on a terrifying rampage of death and destruction, Leon and Claire must race to eliminate the virus, defeat the monster, and do battle with a rogue soldier intent on seeking vengeance for the loss of his family back in Raccoon City. With the fate of the entire world hanging in the balance, Leon and Claire race to ensure that the biohazard is contained, and prevent history from repeating itself. ~ Jason Buchanan, Rovi
News & Interviews for Resident Evil: Degeneration
Critic Reviews for Resident Evil: Degeneration
All Critics (3) | Fresh (3) | Rotten (0) | DVD (2)
It tells a story full of tension and blood that ends up being really faithful to the games. That's more than any of the Anderson movies managed to do. [Full review in Spanish]
Why is it so hard to release this and let us endure Paul WS Anderson's butchery in the first place?
I imagine if you are a fan of the game, and to a lesser degree a fan of the films, you should enjoy this zombie splatterfest
Audience Reviews for Resident Evil: Degeneration
A prelude to the game Resident Evil 5, thus made for the fans. It can also be taken as a follow-up to RE: Apocalypse deviating from the way the movie series is going. The purists will love it, but as a film it has enormous plot holes, stupid characters, cheesy dialogue and the animation is subpar.
Carlos Magalhães
Super Reviewer
½
This is probably the best Resi film to date simply because it looks like a good computer game with some nice looking CGI. Its also the best all CGI film based on a computer game I've seen, smashing 'Final Fantasy', although its been some time since I've seen that. The whole plot isn't much to talk about, its the usual zombie/monster thing, running around dark corridors with a torch and escaping huge research labs that keep having huge meltdowns etc...The thing is with these CGI flicks is they are based within the real Resi Evil videogames unlike the dodgy live action films. This alone gives them the edge which even someone like me can recognise, and I'm no fanboy. Its very atmospheric, you really feel a chill as you follow the characters around. The airport rescue is the most creepy part of the film while the battle against Curtis in mutated form is the most exciting. Despite being released in 2008 this film is actually the first animated Resi Evil film, without going into all the messy details this film will no doubt appeal to the hard core fans big time. Everyone else (such as myself) will find a good horror film but obviously not pick up on all the in-game nods, there are plenty...right?? Its very predictable right to the end, the plot is cliched but its perfect for what it is, which is another chapter in the Resi storyline. Does kinda make you wonder if the bad people in these stories will actually ever learn that making viruses is bad and only results in mass zombie infection problems. Yet no matter what happens there is always some crazy-ass at the end who will kick start the whole thing all over again. Baddies huh, never learn.
Phil Hubbs
Super Reviewer
As a Resident Evil fan, I really enjoyed it. It has plenty of loyalty to the highly acclaimed franchise.From a sudden zombie outbreak, to a deadly B.O.W breaking out. The CGI effects look good, but not great. For those who aren't into RE, its not a great suggestion. However, its worth a try to any RE fans, especially those who prefer Leon S.Kennedy over Chris Redfield.
Samuel Riley
Super Reviewer
Resident Evil: Degeneration Quotes
There are no approved quotes yet for this movie.