Respiro
(2003)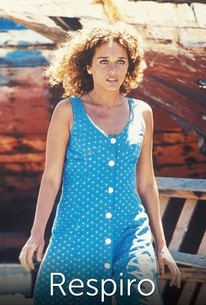 Movie Info
Thirteen-year-old Pasquale is the head of a small band of children who hunt birds in their spare time, and defend "their" territory from rival gangs. Like most of his fellow Lampedusans, Pasquale spends his evenings on Via Roma, the main street that he and his mates use as a racetrack for performing acrobatic stunts with their Vespas. Pasquale's one acknowledged boss is his father, Pietro, a generous but violent man who is both loved and feared. His mother, Grazia, is considered to be extravagant by the rest of her family. She refuses to be dominated, however that is not an advantage in Lampedusa where everyone always keeps an eye on what she's doing. Pasquale is ashamed of his mother being different from the other mothers, but defends and protects her from the growing pressure from her peers and her husband, as everyone wants to take her to a mental hospital in Milan, where they think she can get cured.
Critic Reviews for Respiro
Audience Reviews for Respiro
I'd been reluctant to see this because of my mistaken impression that it was yet another film making light of mental illness, or implying that sufferers have some special insight or powers that make it all worthwhile. I'm glad to admit I was wrong! When I finally did see it, I was awestruck at its sensitive portrait of the family. Highly recommended.
liz b
½
Such a contrast here from the advertisements I saw for this film while in Europe... I don't think Valerino Golino had a smile that wide on her face the entire movie. This advertisement does not at all portray the inner demons that the lead heroine experienced throughout the development of the story... ah! We Americans so crave positive, feel-good romanticism... haha, I just reviewed the ad and not the movie.
Rachel Baker
The story is confusing at times but still a good one to watch if you love the language and scenery of Southern Italia.
Christina Battisti-Ortiz
Respiro Quotes
There are no approved quotes yet for this movie.
Discussion Forum
Discuss Respiro on our Movie forum!