Return of the Aliens: The Deadly Spawn
(1983)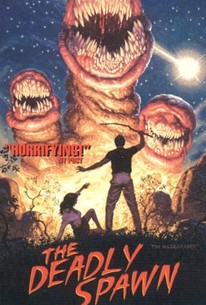 AUDIENCE SCORE
Critic Consensus: No consensus yet.
Return of the Aliens: The Deadly Spawn Photos
Movie Info
A meteorite crashes to earth during a torrential thunderstorm, bringing with it a slimy, three-headed alien beast that craves human meat and gives birth to hundreds of eel-like spawn. The monster takes up residence in the basement of a family home, devouring the parents without anyone else's knowledge. The oldest son Pete (Michael Robert Coleman) is a science major in college, and his younger brother Charles (Charles George Hildebrandt) is a horror movie fanatic who loves to dress up like his favorite monsters and scare his visiting aunt and uncle. When an electrician arrives to check the fuse box, Charles follows him into the basement in costume for a little fun, but instead discovers the hideous alien and what's left of his mother's corpse. Meanwhile, two of Pete's friends come over for a study session, bringing along the remains of a dead alien spawn that they found on the side of the road. Baffled, they dissect it in an effort to establish its origin, but it seems to defy everything they've ever been taught in class. Their intellectual curiosity is abandoned when they find Pete's uncle being eaten by a swarm of alien spawn, and from there on it's a fight for survival against the monster.
Critic Reviews for Return of the Aliens: The Deadly Spawn
All Critics (2) | Fresh (0) | Rotten (2) | DVD (2)
I know, it's all in the name of B-movie fun, yet it's difficult to get into an enterprise that appears to fall asleep on occasion, doing extraordinarily little with a promising concept.
Audience Reviews for Return of the Aliens: The Deadly Spawn
½
[img]http://images.rottentomatoes.com/images/user/icons/icon14.gif[/img]
Directors Cat
Super Reviewer
A mega campy BBB-movie, seemed to have been made by a bunch of teens on free sunday afternoons that is as fun as it gets (if you like these types of movie)
Francisco Godinho
Super Reviewer
The Deadly Spawn is one terrific alien film that has hints of old school 1950's sci fi horror. The film is a low budget horror film that works well because it doesn't take itself seriously for one second, and you gotta love the amounts of gore in the film. The Deadly Spawn is the perfect film for any gore fan. The films strength is in the gore and of course because it's a low budget film, the acting isn't that great. But man is this film entertaining. I was expecting something awful with this film, but to my surprise, it was pretty good considering the simplistic story, effects and not so good acting. For fans of independent horror films, The Deadly Spawn is the perfect film to watch. The film is very entertaining, and though it's not perfect, the film manages to be a memorable addition to genre and is a film that Sci Fi horror fans should see. Sometimes, you have to appreciate a films imperfections, and in the case of The Deadly Spawn, its proves to be to be true. The delivery of good gore makes this a blast, and it makes a somewhat mediocre film into a really good one because The Deadly Spawn is simply a fun, thrilling and above all entertaining film. This film is a must see for every horror fan, a wonderful low budget monster alien flick that delivers wicked gore.
Return of the Aliens: The Deadly Spawn Quotes
There are no approved quotes yet for this movie.