Return of the Dragon (The Way of the Dragon)
(1974)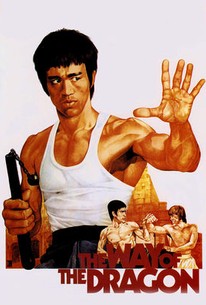 Return of the Dragon (The Way of the Dragon) Photos
Movie Info
Bruce Lee's pre-Enter the Dragon outing is a surprising change of pace from his usual hard-hitting action fare because it favors humor as much as it does kung-fu. It's also notable because it represents Lee's only venture as a director. For the most part, Return of the Dragon works thanks to its charismatic star. Lee shows great comic timing in the humorous set pieces in addition to the usual physical prowess he displays during the action scenes. He also manages to utilize both skills at once on occasion, the best example being a scene where he squares off with a group of mobster goons at a restaurant. It also benefits from its picturesque Italian setting (a novel location for a kung-fu film) and an impressive fight finale between Lee and Chuck Norris (making his film debut). On the down side, the film's low-budget shows and the other performers all pretty much pale in comparison to Lee. However, the real flaw with Return of the Dragon lies in its ending, which features a last-minute twist that doesn't work because it is too unexpectedly tragic for a film that had previously been so lighthearted. Despite this misstep, it remains a likeable blend of kung-fu and comedy that is likely to bring a smile to the face of Bruce Lee fans. ~ Donald Guarisco, Rovi
Critic Reviews for Return of the Dragon (The Way of the Dragon)
All Critics (8) | Fresh (8) | Rotten (0) | DVD (2)
Bruce F*@king Lee!
July 27, 2007 | Rating: 4/5
Certainly the only movie in history to have Bruce Lee and Chuck Norris do battle in the Roman Colosseum.
Strip down the excess of strange characters and bizarre humour, and you have Bruce: mesmerising, fast, witty, and one of the rare examples of true screen magnetism.
Audience Reviews for Return of the Dragon (The Way of the Dragon)
This is probably Bruce Lee's best known, and most beloved film, which he directed, starred in, and dubbed. While the plot isn't especially new, and the humor is so amazingly corny, the action more than makes up for it. The film is set in Rome, which warrants many great sights, and an interesting setting. Lee's character helps saves a tiny restaurant from the clutches of the mafia, and they retaliate against him by calling Chuck Norris from America to come fight him. The fight between Lee and Norris has got to be one of the best onscreen, in film history. Each choreographs very interesting moves, there's a savagery to their vendetta, and it underlines the clear skill of both fighters. If there's any Bruce Lee film that you need to see, it's this very fast paced, and very badly dubbed adventure.
Spencer S.
Super Reviewer
Bruce Lee vs. Chuck Norris. Even today the world's not ready for the epic-ness of this film.
Joshua Wilburn
Super Reviewer
½
great kung fu choreography all the way through, excellent characters, creative setting, good fusion of humor, and a solid story. the one thing hurting this film is a breakdown of the logic of the villains in the final act that is too obvious to be believable, but overall this is one of my favorite bruce lee films.
Return of the Dragon (The Way of the Dragon) Quotes
There are no approved quotes yet for this movie.