Return to Sleepaway Camp
(2008)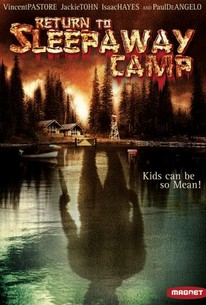 AUDIENCE SCORE
Critic Consensus: No consensus yet.
Movie Info
Two decades after Angela Baker's bloody murder spree at Camp Arawak, Camp Manabe begins to experience a rash of killings that leads one of the owners to recall the gruesome horrors of the past. It's summer at Camp Manabe, and that means that the counselors are doing as little as possible to keep track of their young charges while the kids gleefully torment one another at every possible turn. But while self-serving camp owner Frank (Vincent Pastore) and junior partner Ronnie (Paul DeAngelo) strive to maintain some semblance of control over their campground, things suddenly take a terrifying turn for the worse when the mutilated corpses of young campers and counselors begin turning up all over the grounds. Reflecting on the murders that plagued Camp Arawak when he was an employee there two decades ago, paranoid Ronnie begins compiling an ever-growing list of suspects. Could a member of the staff be responsible for such atrocities, or could former Camp Arawak employee Ricky (Jonathan Tiersten) - who curiously still works nearby - be to blame for the latest round of summertime slaughter? Sure the kids at Camp Manabe have always maintained a reputation for being cruel, but does that really mean that they're capable of murder? Original Sleepaway Camp writer/director Robert Hiltzik reunites with that film's star Felissa Rose for this belated sequel featuring all of the trash-talking thrills and creative kills that has made the long-running series a hit with horror fans everywhere.
Critic Reviews for Return to Sleepaway Camp
All Critics (1) | Fresh (0) | Rotten (1) | DVD (2)
Gone is the really black humor of the first film. Gone is the insane twist. Gone are the inventive kills. And gone is nearly all of the charm that has kept this franchise alive.
Audience Reviews for Return to Sleepaway Camp
½
This is a bit of a mess. There were so many ideas, but they all couldn't be crammed into one movie. Lots of characters who could've got killed off, sorta vanished from the scene. It was cool seeing Vincent Pastore, but Isaac Hayes and Felissa Rose were a bit underused. The police officer with the voice box was a rather odd character. There were some very original deaths here. I liked the guy being dunked headfirst into the deep fryer, the drug-smoker explosion and the bed of nails. The bird cage death had buildup, but then only showed the after-effects of the rate chewing his face and gut. It took a long time to get things going, as the plot got mired in the fat kid being teased repeatedly. There was a lack of a good end chase. I would've preferred the killer to be out in the open and cracking one liners, rather than keeping their identity a mystery until the end. I hope they make another one and bring Angela back for more fun.
Lafe Fredbjornson
Super Reviewer
Sleepaway Camp was "camp" in two ways. Large parts of it were crafted to be tacky, as carefully as the gliding final shot that delivered the audience a horror that went far beyond camp. This sequel by the original director uses two decent DPs, and is faithful to the spirit of the original in being outright aggressive to the audience, who like the series because its editing popped with crudities and blissful nonchalance about murdering people with as much gruesome creativity as you could learn during Arts&Crafts hour. But it's stentorian, in the action and the editing. And the actors (ex. Pastore, Hayes) play it loud and caustic, usually effectively. However, it has a focal character, Alan, who is like Private Pyle from Full Metal Jacket if Pyle was just as likely to pummel the other cadets with bars of soap for a belly laugh. Everyone on the production has encouraged this poor young actor to give what we might call a career-destroying performance. That way, whatever violence happens can go around him, and if their build-up fails to scare, they can point to Alan and say they weren't taking this whole horror thing seriously anyway. The best thing you can say about Return to Sleepaway Camp is that it's not boring and moves as fast as hell. Makes it hard to get over-annoyed at any one thing -- except Alan. It's also interesting in that the writer-director populates the scene with campers that have 1 or 2 lines who we only see twice, which suggests a real camp more than a smaller cast, and more than the weird fact that this camp draws older men to continually work with adolescents -- older men which include Ronnie, from the first movie, who still wears his heart on his sleeve and muscle shirts with no sleeves. In fact, the movie is populated with realistically attractive starlets (who don't get naked or hook up with anyone). A lesson to movie makers who want every young actress to look like an almost-supermodel postgraduate.
Adam Mahler
Super Reviewer
It's been over 20 years now since we saw the first Sleep away camp movie and with its shocking twist! Well that movie was Cheesy and Fun to watch just like Return to Sleepaway camp (2008) It dose have the 80's feel to whole the movie, Acting is very cheesy and funny! The movie starts of were the boys are messing around in the bed room as Alan come in trying to be a big shot but fails. Later all the campers are in the canteen having lunch while Frank tells them to shut the hell up so the security man can tell them something but he can't speak normal because he used to smoke a lot! And use some kind of tool to talk, of course everyone make fun of him. Meanwhile Alan is being pain as he won't eat the food that everyone is eating so he throws it on the floor and then Randy grabs him and tells him to eat it of the floor! The fight is broken by Ricky (who I think was in the 1st Sleep away camp movie) As Alan goes to see the cook and then the cook tell him not to eat the ICE CREAM but again Alan dose not listen and then The cook start to throw eggs at him, which make Alan fight back then throws knife at the cook at the same moment Frank see this and tells Alan to go to his room. Later a person in black coat and hood of the person head come in a kills the cook by pushing him into the deep fryer and gets rid of he body. The next day Frank thinks that the cook did a runner, so no one knows he was killed. Again Alan is get in being bullied by everyone boys and girls most of the movie. While everyone doing these pranks on Alan, more bodies end up dead! Then the girl that Alan likes traps him into the worst prank of all time! That makes him mad, screaming mad! And then runs into the woods. Ricky has a very weird feeling that Angela is back but no one believes him (I don't believe he can act lol) (All deaths scenes were so bloody awesome, 10/10 for every deaths scene!) When the bodies are found dead, everyone says it's Alan who killed everyone! Is it Alan? Or is Ricky right that Angela is back? Or is a new copy cat killer on campus? Overall I was not disappointed in this movie, I didn't expect to like at all. Also really like the twist., I didn't see it coming! The acting wasn't great at all but it was perfect for B- movie. I love the deaths scenes just made this movie great for me.
Cassandra Maples
Super Reviewer
Return to Sleepaway Camp Quotes
There are no approved quotes yet for this movie.