They Came Back
(2004)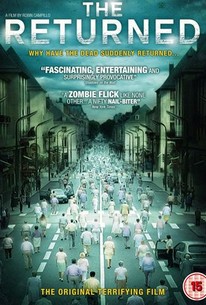 Movie Info
The recently dead return to life in They Came Back, but they are surprisingly uninterested in feasting on the living. Many of them are, naturally enough, elderly, and they seem content merely to go back to their former lives, but their return causes a myriad of complications. Robin Campillo, making his feature directorial debut, co-wrote the script to Laurent Cantet's Time Out, and his "zombie" movie quietly examines the individual and societal impact the dead have on the small French city -- just one of many similarly afflicted throughout the world -- to which they return. Isham (Djemel Barek) and Véronique (Marie Matheron) have their trepidations, but they're generally happy, at first, to see their little boy Sylvain (Saady Delas), and the town's elderly mayor (Victor Garrivier) welcomes home his wife, Martha (Catherine Samie). But Rachel (Géraldine Pailhas of 5x2), a government health official, cannot bring herself to visit her newly returned husband, Mathieu (Jonathan Zaccaï of Seaside), at the ad-hoc shelter where the government houses the "zombies" like refugees. Eventually, she relents, and Mathieu returns home, but the living find that their loved ones are not exactly as they remember them. Studies soon reveal that the dead suffer from a form of aphasia. They cannot create new memories, and they cannot be trusted to perform any but the most menial tasks. Perhaps sensing the discomfort they cause the living, the dead gather together at night, and seem to be formulating some kind of secret plan. They Came Back was selected by the Museum of Modern Art and the Film Society of Lincoln Center for inclusion in the 2005 edition of New Directors/New Films.
Critic Reviews for They Came Back
Audience Reviews for They Came Back
A very unconventional and ingenious contribution to an increasingly unimaginative genre. Eerily off-center and unsettling.
Randy Tippy
Super Reviewer
½
I really liked this movie and how it tries to do something that turns the "zombie" genre completely on its ears. I've never seen a movie that the second it begins, you already have a ton of questions about what could've caused this, what happened to them, do they remember their deaths, do they age and it makes you completely and utterly interested in where the movie's going to go and what themes they explore. Unfortunately they don't answer many of my questions, which is my own fault since they were never ACTUALLY addressed in the movie. If the movie addressed it and then never answered it, that'd be one thing, but some of the questions were never addressed so it was unrealistic to expect answers, despite the logical nature of some of these questions. You get to see how the government reacts and how they try to let them lead their lives about as normally as they could and how the people react to the return of their loved ones and their motivations, even of characters you don't even see, are made clear in the movie. For example, there are some unclaimed "zombies" that are overcrowding the centers they're being kept at. And if this thing were real, there would be some people who couldn't deal with the fact that their dead loved ones came back and they wouldn't claim them. It's not selfish behavior, it's a very logical way to react. And this is what the movie does best, it makes this genre into a serious one and one that a lot more, dramatically, could be done with. While I'm a fan of zombie movies, I must admit that almost all of them are never written as serious stories. They may be dark and violent, but you don't really care about what happens to any of the characters because that's not what is selling the movie. This movie is sold on the story of these characters and how people react to their loved ones coming back and how the dead have an incredibly hard time adapting to their life because they can't form new memories and can hardly do their jobs, and everything they do and say has a basis on what happened BEFORE they died. So at the end you really do end up caring about these characters and their actions and I can't recall any zombie movie ever having that effect on me. It's just an incredibly well written and intelligent movie. Now granted, being that there is little to no action the movie does feel slow, but that doesn't mean the movie is bad. Some people will have a problem with the slowness of the movie. So of course I realize that this movie is really an acquired taste. But the complexities of the ideas here, the believable writing and acting make this movie a incredible experience and I wish more people had the balls to take a genre and do something completely unexpected with it. Unlike Twilight's detrimental effects to the vampire lore, this movie only strengthens and adds a dimension never before seen to a genre that's been done to death...
Jesse Ortega
Super Reviewer
½
They Came Back is an odd little yarn with no greater meaning, which I think probably threw a lot of watchers for a loop. There are no conclusions to be drawn, thematically or narratively, so what you get is a ninety minute day-in-the-life hypothetical as approached through the viewpoints of several people. We get some good depictions of the emotional impact that this resurrection event has on the bereaved, and overall the film did a fine job of actually making me feel what it's like to be a zombie. It's stultifying, but in light of the film's long and leisurely shots and its creeping music, to say nothing of the insulated suburbia we get so many glimpses of, this was clearly the director's intention. I think that the movie's greatest shortfalling is its mechanical inconsistency. It is a magical realism piece, which is perfectly okay, but the movie's insistence on exploring the "why?" of the film makes the omission of the "how?" all the more glaring. I mean, why not a scene where the scientists and governmental figures in charge ruminate on what's actually brought the dead back to life? We are offered plenty of possible explanations regarding their unusual behaviors, their discordant speech and their routines, and several scenes are set aside to discuss the logistics of accommodating 13,000 extra people. It's not necessarily that I expect or need this question to be answered, but hearing the characters tackle the movie's greatest mystery would have added to the "realism" part of this film. Furthermore, there's a plot development toward the end that doesn't make an ounce of sense in any regard. *minor spoilers ahead* The zombies are able to pull off a rather complex covert operation without arousing any sort of suspicion; I find it strange that they would be able to pull this off undetected, especially with the level of scrutiny that the humans apply to them. This may seem nitpicky, but it's a fairly severe issue that is quite apparent if you give what's happening a few seconds of thought. As with the rest of They Came Back, the ending will please a few but frustrate others; in keeping with the rest of the movie's inexplicable bizarreness, I found it appropriate. Pound for pound, I won't be surprised if you don't like it, but I got a kick out of its vague creepiness and human insights. Not recommended to those looking for a definite plot, or any plot at all, really.
Drew Smith
Super Reviewer
They Came Back Quotes
There are no approved quotes yet for this movie.