Rio Bravo
(1959)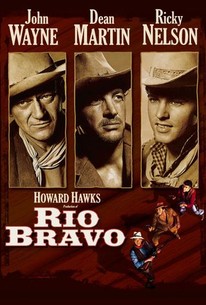 Movie Info
Set in Texas during the late 1860s, Rio Bravo is a story of men (and women) and a town under siege. Presidio County Sheriff John T. Chance (John Wayne) is holding Joe Burdette (Claude Akins), a worthless, drunken thug, for the murder of an unarmed man in a fight in a saloon -- the problem is that Joe is the brother of wealthy land baron Nathan Burdette (John Russell), who owns a big chunk of the county and can buy all the hired guns he doesn't already have working for him. Burdette's men cut the town off to prevent Chance from getting Joe into more secure surroundings, and then the hired guns come in, waiting around for their chance to break him out of jail. Chance has to wait for the United States marshal to show up, in six days, his only help from Stumpy (Walter Brennan), a toothless, cantankerous old deputy with a bad leg who guards the jail, and Dude (Dean Martin), his former deputy, who's spent the last two years stumbling around in a drunken stupor over a woman that left him. Chance's friend, trail boss Pat Wheeler (Ward Bond), arrives at the outset of the siege and tries to help, offering the services of himself and his drovers as deputies, which Chance turns down, saying they're not professionals and would be too worried about their families to be good at anything except being targets for Burdette's men; but Chance does try to enlist the services of Wheeler's newest employee, a callow-looking young gunman named Colorado Ryan (Ricky Nelson), who politely turns him down, saying he prefers to mind his own business. In the midst of all of this tension, Feathers (Angie Dickinson), a dance hall entertainer, arrives in town and nearly gets locked up by Chance for cheating at cards, until he finds out that he was wrong and that she's not guilty -- this starts a verbal duel between the two of them that grows more sexually intense as the movie progresses and she finds herself in the middle of Chance's fight. Wheeler is murdered by one of Burgette's hired guns who is, in turn, killed by Dude in an intense confrontation in a saloon. Colorado throws in with Chance after his boss is killed and picks up some of the slack left by Dude, who isn't quite over his need for a drink or the shakes that come with trying to stop. Chance and Burdette keep raising the ante on each other, Chance, Dude, and Colorado killing enough of the rancher's men that he's got to double what he's paying to make it worth the risk, and the undertaker (Joseph Shimada) gets plenty of business from Burdette before the two sides arrive at a stalemate -- Burdette is holding Dude and will release him in exchange for Joe. This leads to the final, bloody confrontation between Chance and Burdette, where the wagons brought to town by the murdered Wheeler play an unexpected and essential role in tipping the balance. ~ Bruce Eder, Rovi
News & Interviews for Rio Bravo
Critic Reviews for Rio Bravo
Audience Reviews for Rio Bravo
½
A wonderful, good-old-fashioned Western that is compelling and amusing, blending humor and drama in a multilayered story centered more on the complex characters than on the action - and it has a lot of memorable dialogue and a perfect pacing that is careful but never slow.
Carlos Magalhães
Super Reviewer
One of the most entertaining and fun film experiences you'll ever have. Wayne, Martin & Brennan really shine in this one. Some of the best dialogue I've ever heard.
Graham Jones
Super Reviewer
An entertaining classic. Sure, to an extent, it's a vehicle for Ricky Nelson - toward the end, we get some very anachronistic country music! - but overall, it's a simple film in which John Wayne does his usual thing (as the sherriff), Dean Martin shines as a drunk struggling to get it together, and luminous Angie Dickinson and her legs-right-up-to-her-neck win the seen-it-all-sherriff's heart. I liked the way in which everyone in town was trapped, in a sense, and the tension that comes from having the barbarians - Burdette's gang - at the gate all the while. The title wasn't the best one, but there's so much in this movie, I don't know what you'd call it: laughs, love, action and drama combine to make an enjoyable film. It doesn't "hit hard," but it's definitely a hit.
Daniel Perry
Super Reviewer
Rio Bravo Quotes
| | |
| --- | --- |
| Dude: | My name is Dude, and I'm an alcoholic. |
| | |
| --- | --- |
| Feathers: | Me, I just talk all the time. |
| Sheriff John T. Chance: | You most certainly do. |
Discussion Forum
Discuss Rio Bravo on our Movie forum!