Roberto Succo
(2000)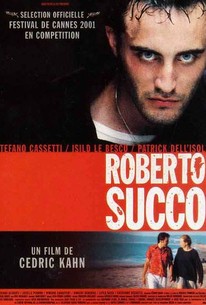 Movie Info
A girl discovers her mysterious new boyfriend has a lot more secrets than she expected in this drama inspired by a true story. Lea (Isild Le Besco) is a 16-year-old student who is on summer vacation from school when she meets a man named Kurt (Stefano Cassetti), who appears to be at least ten years her senior. Despite the difference in their ages, Lea grows fond of the shy and sometimes awkward Kurt, and a romance blooms between the two, with Kurt often meeting Lea at her family's summer home in the mountains. Despite their affection for each other, Kurt proves to be a singularly uninterested and unsatisfying lover, but that soon proves to be the least of Lea's worries after she learns that her boyfriend is actually Roberto Succo, a notorious criminal wanted for robbery, assault, murder, and rape. While Lea isn't sure what to do about this at first, it doesn't take long for her to decide it's time to end their relationship; Roberto isn't especially happy about this, but Lea's resolve is strengthened when she learns that his murder victims included a number of people who were closest to him, among them his parents. Finally, Lea decides to inform the police about Roberto's whereabouts, but it turns out to be too late -- Roberto has hit the road, and kidnapped the first of several women in a bid to get out of the country before the law can catch him. Roberto Succo is based on a book about the real-life criminal of the same name; while the film stays true to the facts about Succo's crimes, it adds a number of characters who are either fictionalized versions of real people or inventions of the screenwriter created as a narrative convenience. ~ Mark Deming, Rovi
Critic Reviews for Roberto Succo
Audience Reviews for Roberto Succo
A very tedious and uninvolving jump into the mind of a serial killer. The kind of film that is begging to be set loose but is kept on a leash and starts to choke. Some engaging technical work is enough to keep one awake for around 50 minutes but after that expect to be nodding off.
Luke Baldock
Super Reviewer
An admirable attempt at a matter-of-fact portrait of a crazed serial killer. The trouble is, the very things which make the movie initially arresting, i.e. the non-linear structure and the lack of dramatic punctuation, make it mundane, repetitive and boring in the long term. The most interesting aspect, I found, was not the killer or his relationship with his schoolgirl lover, but the police man-hunt. A noble failure.
Roberto Succo Quotes
There are no approved quotes yet for this movie.