Rope
(1948)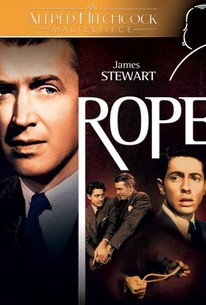 Movie Info
Rope, Alfred Hitchcock's first color film, was adapted from Patrick Hamilton's stage play Rope's End by no less than Hume Cronyn. Loosely inspired by the Leopold-Loeb case, the plot concerns two implicitly homosexual college chums, played by Farley Granger and John Dall. Their heads filled with Nietzschean philosophy by their kindly professor James Stewart, Granger and Dall kill a third friend just for the thrill of it. The boys hide the body in an antique chest in the middle of their posh apartment, then perversely arrange to hold a dinner party around the chest, inviting the victim's family, friends and fiancee (Joan Chandler), as well as their intellectual role-model Stewart. As the guests wander obliviously around the sealed chest, the killers make snippy, veiled comments about their deed--never going so far as to reveal the existence of the body nor their involvement in the murder. As all the guests file out, however, professor Stewart begins to suspect that something is amiss. In Rope, Hitchcock attempted the daunting technical challenge of filming the entire picture in one long, seemingly uninterrupted take. Actually, there are several edits in the movie: since a reel of film was divided into two ten-minute minireels back in 1948, the internal reel-breaks are "fudged" by having a dark object briefly obscure the camera lens, sustaining the illusion that no editing has taken place.
Audience Reviews for Rope
½
The long takes may be a remarkable stunt but those hidden cuts are in fact extremely distracting and obvious - and, contrary to popular belief, the film does have conventional, unmasked cuts. Even so, it benefits from tense moments and a well-written plot with great dialogue.
Carlos Magalhães
Super Reviewer
Alfred Hitchcock has always crafted superb films, his sense of style, the way he mounts the tension, terror and thrills is unmatched by any director that has ever stepped behind the camera. With Rope he crafts a stunning, flawless thriller that is a genre classic and is elevated by stunning performances by its lead actors. Hitchcock's direction is brilliant, and he yet again cements his reputation as one of the finest directors that has ever lived. Rope is a classic picture, one that definitely needs to be seen by genre fans, and it's a film that steadily builds up the tension, in order for the viewer to really get into the story and not turn away. Thrillers like this are hard to tope, and Rope is a flawless picture that ranks as vintage Hitchcock. With James Stewart as a lead, Hitchcock always managed to get the most with each of his performance, and having seen a few of Stewart's performances, Rope stands out, and he delivers a perfect performance, and he was one of the finest actor of the era. Rope is a short film, but it makes the most of it due to its story, which is constantly enthralling and is edge of your seat material. The pacing is effective as well and even if it's a short picture, it gets to the point, and it's very entertaining. Hitchcock was a master, and Rope is one of his finest thrillers. If you're a fan of this genre, then this is a definite must watch. With emphasis on tension, and effective storytelling, Rope is one of the finest thrillers that has ever been committed to film.
Awesome, considering the challenges of filming such a script. Really good performances.
Christian C
Super Reviewer