Rules Don't Apply
(2016)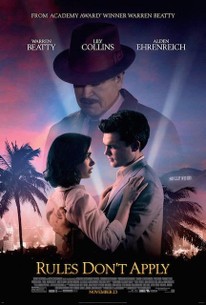 TOMATOMETER
AUDIENCE SCORE
Critic Consensus: With Rules Don't Apply, Warren Beatty takes an overall affable -- but undeniably slight -- look at a corner of old Hollywood under Howard Hughes' distinctive shadow.
Movie Info
An aspiring young actress (Lily Collins) and her ambitious young driver (Alden Ehrenreich) struggle hopefully with the absurd eccentricities of the wildly unpredictable billionaire Howard Hughes (Warren Beatty) for whom they work. It's Hollywood, 1958. Small town beauty queen, songwriter, and devout Baptist virgin Marla Mabrey (Collins), under contract to the infamous Howard Hughes (Beatty), arrives in Los Angeles. At the airport, she meets her driver Frank Forbes (Ehrenreich), who is engaged to be married to his 7th grade sweetheart and is a deeply religious Methodist. Their instant attraction not only puts their religious convictions to the test, but also defies Hughes' #1 rule: no employee is allowed to have any relationship whatsoever with a contract actress. Hughes' behavior intersects with Marla and Frank in very separate and unexpected ways, and as they are drawn deeper into his bizarre world, their values are challenged and their lives are changed.
News & Interviews for Rules Don't Apply
Critic Reviews for Rules Don't Apply
Audience Reviews for Rules Don't Apply
More humorous than I expected. It's kind of a mess, but I still admire Beatty's bizarre vision.
Alec Barniskis
Super Reviewer
At the core of this slice of late 50's, early 60's Hollywood is, tah-dah, (of course) a love story. Unfortunately both of our young lovers come off as opportunistic wannabes, particularly when played against the always-in-shadow Howard Hughes (writer/director/producer Beatty) who seems bewildered as to why they seem bewildered over being played so, um, ruthlessly. And he does play them both. Sucks all the charm right out of the thing. Somehow Annette Bening escapes as the only sympathetic character onscreen and she's only there for a minute.
Kevin M. Williams
Super Reviewer
Rules Don't Apply is a film that fails on just about every conceivable level. The only good thing I can say about it is, that it's probably one of Lily Collins better performances, too bad it's wasted in this punchbowl of a film. The flaws are simply too much for you to take it seriously on any level. It's like someone decided to do a 1950s love story and a Hollywood Biopic and failed to do either one properly. It's ironic that this film is about a Hollywood Legend who's trying to be the boss while whacked outta his mind because after watching this movie, I think it's time for Warren Beatty to enjoy the rest of his life at home before he gets sectioned.
Jacob Smith
Super Reviewer
Rules Don't Apply Quotes
There are no approved quotes yet for this movie.