Ryeong (The Ghost) (Dead Friend)
(2004)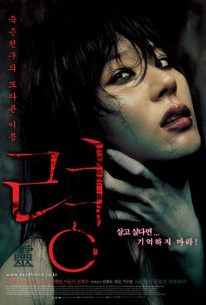 AUDIENCE SCORE
Critic Consensus: No consensus yet.
Movie Info
They say karma gets you back when you do wrong to others. Min Ji Won (Kim Ha Neul) is a high school student who suffers from amnesia after something unexplainable happens to her.
Critic Reviews for Ryeong (The Ghost) (Dead Friend)
There are no critic reviews yet for Ryeong (The Ghost) (Dead Friend). Keep checking Rotten Tomatoes for updates!
Audience Reviews for Ryeong (The Ghost) (Dead Friend)
½
I did not think this movie was very good at all. It adds very little to a tired genre quite frankly. How many times can you do the same type of 'long black haired dead girl haunting people who wronged her' before you realize that it's just not working anymore? There's just nothing remotely interesting about this movie, I have a hard time remembering shit as it is and I just watched this yesterday. It has one of those ambiguous endings that you just don't care to figure out because the movie is just no good, so it's no use to waste time on shit that doesn't really matter. And realistically, this movie is far more boring than it is bad (if such a thing makes sense) but I just had a complete feeling of apathy watching this. Go watch Ringu...or the remake. Those are the only two good films of its type, that I've seen at least. I think Shutter (THE ORIGINAL for fuck's sake...the remake was an abortion unto GOD) is a good movie, but nowhere near that quality. Long story short, don't waste your time watching this goddamn movie.
Jesse Ortega
Super Reviewer
½
Whilst a lot of this film was slow moving, the ending qas quite speedy with a lot to take in. The story itself escalated into a fairly good plot and I have to say I don?t remember the last time I jumped so much at a Horror film, of course this was helped by watching the film in the quiet with ear phones on. Worth watching just for the jumpy scenes and the unpredictable twist.
Lady D'arbanville
Super Reviewer
½
Pretty run of the mill stuff except for the ending.
vieras esine
Super Reviewer
Ryeong (The Ghost) (Dead Friend) Quotes
There are no approved quotes yet for this movie.