S. Darko: A Donnie Darko Tale
(2009)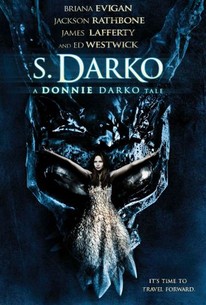 S. Darko: A Donnie Darko Tale Photos
Movie Info
Daveigh Chase reprises her role as Samantha Darko in this sequel set seven years after the events of director Richard Kelly's acclaimed cult hit. The day Donnie Darko died, his family died too. Almost a decade later, eighteen year old Sam still feels the loss every day. She longs to become a professional dancer, and decides to take a road trip to California with her best friend Corey (Briana Evigan). When their car breaks down just outside the dusty small town of Conejo Springs, carefree Corey bides her time waiting for a new water pump to arrive by striking up a friendship with local bad boy Randy Holt (Ed Westwick). The following morning, a meteor crashes to the ground nearby, destroying a local farmer's windmill and leaving a gaping crater in the ground. In the aftermath of that unsettling incident, Sam's disturbing prophetic dreams seem to start spilling over into the real world. Could the people around her prove the key to unlocking this unearthly mystery? Unfortunately for Sam, religious fanatics Trudy Potter (Elizabeth Berkley) and Pastor John Mellit (Matthew Davis) seem more interested in spouting religious clichés that pondering the end of the world, and Randy and the locals are too busy partying to notice that events are coming to a head. When the locals begin to gossip, Sam and Corey's friendship starts to suffer, and the pair have a bitter falling out. Unaware of the fact that they have become inexorably bound by fate to a missing child, an unstable Gulf War veteran, and a mysterious rift in the time-space continuum, the former friends discover that the world will soon perish unless a substantial sacrifice is made. ~ Jason Buchanan, Rovi
News & Interviews for S. Darko: A Donnie Darko Tale
Critic Reviews for S. Darko: A Donnie Darko Tale
Audience Reviews for S. Darko: A Donnie Darko Tale
Awful and pointless sequel to the superior horror suspense cult hit, Donnie Darko is a film that never should have been made. The film has a poorly written script, bad directing and a very poor cast. This film doesn't have anything good going for it. Painful and unwatchable. This sequel is a mess from start to finish, and it doesn't have the psychological tension that the first film did. This is a poor sequel that should never have been made. The director crafts a sloppy film and with a poor cast and script, it's clear to see why as a psychological horror film, S. Darko fails miserably. There's not a shroud of creative integrity here and simply put this sequel is a slap in the face to the great psychological horror flick, Donnie Darko which was released in 2001. This is a film that is definitely not worth your time and you should check out the first instead. Director Chris Fisher clearly lacks any directing flair, and can't grasp the material that was established so well in the original. There's nothing worth seeing in this to really make it stand out. All this film is is an exercise in awful filmmaking. This is a clichéd piece of trash that fans of the first should definitely avoid. If you're looking for poor filmmaking then look no further than S. Darko. The biggest problem with this film is that it tries too hard at outdoing the original, but fails and in doing so; we have a film with a cast that deliver bad dialogue, and a very poor plot. There's nothing here that will please fans of Richard Kelley's psychological horror Cult classic.
Really not as bad as I was expecting. Clearly the director and writer worship the original, there's so many similar plots and meticulous homages to it. Daveigh Chase isn't all that great, neither is the character of Sam. However, this movie's just so interesting for some reason. Maybe it was the cool 90s soundtrack that had me transfixed, but I honestly wasn't expecting anything more than a sci-fi channel original movie when I put it in. It's a nice surprise.
Conner Rainwater
Super Reviewer
½
I loved the first movie but I had to watch it a few times to really appreciate it. I'm not giving this one another chance. I thought that changing the past would make everything in the future right but it didnt seem that the boys were going to be discovered in the "new" future. And someone else was going to get the crazy rash from the radioactive meteor. There were so many alternate realities instead of just one like in the original.
S. Darko: A Donnie Darko Tale Quotes
There are no approved quotes yet for this movie.