Sabretooth
(2002)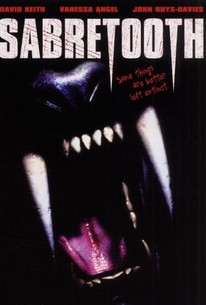 Movie Info
The subject of the successful speeding up of growth after cloning -- in this case, a full-grown sabretooth tiger -- escapes in a forest and develops a taste for frantic hikers. The insensitive scientists who created the creature, Anthony Bricklin (John Rhys-Davies) and Catherine Viciy (Vanessa Angel), call in chiseled-chin veteran big game hunter Bob Thatcher (David Keith) to sedate the feline before it can get its chompers into fresh victims.
Critic Reviews for Sabretooth
All Critics (5) | Fresh (1) | Rotten (4) | DVD (2)
In the realm of straight-to-video horror, you could certainly do worse than Sabretooth. The film would probably best be enjoyed among friends, with copious amounts of booze handy.
Ever suspected some kind of weird Social Darwinism at work when it comes to horror movies like this?
Audience Reviews for Sabretooth
Jacob Palacio
Super Reviewer
Sabretooth Quotes
There are no approved quotes yet for this movie.