Saint Misbehavin': The Wavy Gravy Movie
(2010)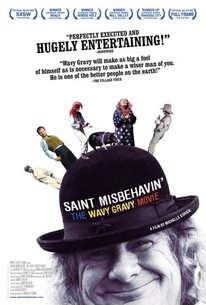 Saint Misbehavin': The Wavy Gravy Movie Photos
Movie Info
Beginning with Woodstock '99, director Michelle Esrick has spent ten years documenting the life of Wavy Gravy. Saint Misbehavin' journeys from the hills of California to the Himalayan Mountains to reveal the life of this one of a kind servant to humanity. The film blends Wavy's own words with magical stories from an extraordinary array of fellow travelers both cultural and counter-cultural, revealing the man behind the clown's grin and the fool's clothing. In Saint Misbehavin' Wavy is revealed more than the tie-dyed entertainer and ice-cream flavor namesake that often defines him in the popular imagination. Audiences will come to know the activist, the optimist, and the healer who reaches beyond political, economic, and cultural divisions in his commitment to social change and the alleviation of human suffering. Wavy's life is his message, serving as deeply needed inspiration that we can change the world and have fun doing it. Satirist Paul Krasner describes Wavy as "The illegitimate son of Harpo Marx and Mother Theresa, conceived one starry night on a spiritual whoopie cushion," to which Wavy has replied, "Some people tell me I'm a saint, I tell them I'm Saint Misbehavin'." -- (C) Official Site
Critic Reviews for Saint Misbehavin': The Wavy Gravy Movie
Audience Reviews for Saint Misbehavin': The Wavy Gravy Movie
Wavy Gravy has served breakfast in bed to 500,000 people, he has traveled through the Middle-East and beyond to bring joy and food to the down-trodden, hopeless, homeless, and even those affected by natural disasters. He has mentored the youth of America as the co-founder of Camp Winnarainbow. A poet. A clown. A Hog Farmer. A Merry Prankster. A living Saint. This movie highlights and sheds light on the wonderful and unbelievable life, of one of the zaniest and greatest people, to ever walk the planet. This is an incredibly in-depth documentary chronicling the life of Hugh Romney, who went from a beloved New York poet, to a nomadic Jester. Traveling the world with his much-loved Wife, as they set out to make a difference in the world. SAINT MISBEHAVIN' will not only put a smile on your face, but it may inspire you to release the inner-Wavy that hides deep inside all of us.
Jason Reneau
Super Reviewer
Saint Misbehavin': The Wavy Gravy Movie Quotes
There are no approved quotes yet for this movie.