Salò o le 120 giornate di Sodoma (Salò, or the 120 Days of Sodom)
(1979)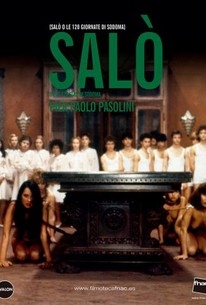 Salò o le 120 giornate di Sodoma (Salò, or the 120 Days of Sodom) Photos
Movie Info
The final work of notorious Italian director Pier Paolo Pasolini, this film updates the Marquis de Sade's most extreme novel to fascist Italy in the final days of WW II. Dispensing with the novel's meditations on sexual liberation and the search for truth, Pasolini presents four decadents who kidnap dozens of young men and women and subject them to the most hideous forms of torture and perversion in an isolated villa. Rape, murder, and a coprophagic banquet are only the beginning of the atrocities on display. Photographed by Tonino Delli Colli, the film also features a lavish score by Ennio Morricone. ~ Robert Firsching, Rovi
News & Interviews for Salò o le 120 giornate di Sodoma (Salò, or the 120 Days of Sodom)
Critic Reviews for Salò o le 120 giornate di Sodoma (Salò, or the 120 Days of Sodom)
Audience Reviews for Salò o le 120 giornate di Sodoma (Salò, or the 120 Days of Sodom)
It took nearly 40 years, but we've gotten to a point in modern cinema where looking back on Pasolini's swan song is now a doable, not entirely nauseating task. An essential viewing for any prospective filmmaker.
Kevin Cookman
Super Reviewer
'Salo' masquerades as some sort of political allegory, but the supposed subtext is just a tenuous excuse for covering a whole spectrum of perversity - it has no purpose apart from to shock and disgust.
Jack Hawkins
Super Reviewer
A disgusting, extreme and shocking vision by Pier Paolo Pasolini of Marquis de Sade's book. Salo is an uncomfortable and unique experience, that also presents some black humor and humanism. It's a psychological, moral and a metaphor vision of the ditadorship and all the ways of kill the freedom. Unforgettable. Fresh.
Lucas Martins
Super Reviewer
Salò o le 120 giornate di Sodoma (Salò, or the 120 Days of Sodom) Quotes
There are no approved quotes yet for this movie.