Samurai Rebellion
(1967)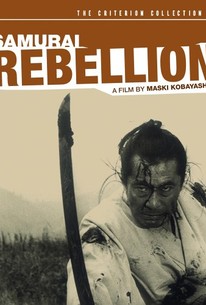 Movie Info
A father and son prepare to die for their beliefs in this historical drama set in 18th century Japan. While Isaburo Sasahara (Toshiro Mifune) has been loyal to Japan's feudal system all his life, his beliefs begin to change when the local rulers demand that his son Yogoro (Go Kato) give up his bride, who has bore a child that will come to power upon the death of the current ruler. Yogoro dearly loves his wife, and Isaburo respects his daughter-in-law and does not want to be separated from his grandson. When Yogoro refuses to part with his wife and child, he and Isaburo are ordered to kill themselves. They refuse and instead challenge the forces of the feudal leaders to a fight to the death. Director Masaki Kobayashi's work on this film earned him the FIPRESCI Award at the 1967 Venice Film Festival. ~ Mark Deming, Rovi
Rating:
NR
Genre:
, ,
Directed By:
Written By:
In Theaters:
On DVD:
Runtime:
Studio:
Criterion Collection
Critic Reviews for Samurai Rebellion
Audience Reviews for Samurai Rebellion
½
Oh man, don't you dare cross Toshiro Mifune. The veteran actor has amassed quite a body count during his cinematic reign in which he ruled for an astounding 170 feature-length films, and here he adds a few more notches to his blood-soaked belt. While it can be quite depressing to think of all the poor Japanese folks that Mifune has dispatched over his career, director Masaka Kobayashi goes to painstaking lengths to make sure the viewer knows that at least in this film, he is doing it for good reason. Not only is he giving the finger to the almighty creator by doing away with his creation with his unparalleled swordsmanship, but he is also rebelling against the daimyo of the Aisu clan of which he is a vassal, a crime of which there can be no forgiveness. Although not as impressive visually or thematically intriguing as his 1962 masterpiece Harakiri, Kobayashi once again proves that he is a capable storyteller. All the while examining social order and the price that it imposes on the body of people that it claims to protect. Despite the fact that the material was in the hands of Shinobu Hashimoto, the writer responsible for Harakiri, it is unfortunately lacking the urgency and vitality that made the prior film so special. Yet, not all is lost as Kobayashi delicately sheds light not on the overt violence that this society cultivated, but rather the quiet disruption of the family for the sake of the lord. Though Kobayashi's revisionist tale isn't as gripping as his previous work, it is still a very exciting piece of cinema and further proof that Kurosawa & Ozu aren't the only Japanese directors worthy of our respect.
½
Toshiro Mifune is at it again with this Sensational, deeply moving samurai flick thats worth WATCHING!!! AGAIN AND AGAIN!!! The 18th century was a great time in these era of films still the 16th century always has me. I liked the acting and story and costumes and ECT.
the end was a little upsetting, but the rebel in me was excited for this one. overall a great flick, and even the disappointing end has a redeeming moment.
Samurai Rebellion Quotes
| | |
| --- | --- |
| Isaburo Sasahara: | When you grow up, become a woman just like your mother. And marry a man just like your father. Be sure to do that. Marry a man just like your father. |