Sarah Landon and the Paranormal Hour
(2007)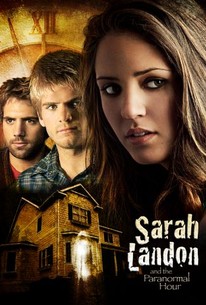 Sarah Landon and the Paranormal Hour Videos
Sarah Landon and the Paranormal Hour Photos
Movie Info
The supernatural tale Sarah Landon and the Paranormal Hour stars Rissa Walters as the title character, a teenage girl who attempts to figure out why the people of her village are being haunted by ghosts.
Rating:
PG (for thematic elements, mild peril and language)
Genre:
,
Directed By:
Written By:
In Theaters:
On DVD:
Box Office:
$817,935.00
Runtime:
Studio:
News & Interviews for Sarah Landon and the Paranormal Hour
Critic Reviews for Sarah Landon and the Paranormal Hour
Audience Reviews for Sarah Landon and the Paranormal Hour
I'm not sure where "Sarah Landon and the Paranormal Hour" came from because there were no trailers, no advance notice and no screenings. It just showed up in a couple of theaters for a week, and then it disappeared as quickly as it came. Apparently, pre-teen girls know who Sarah is because she's the star of a popular series of mystery novels for young adults, and as her film debut closes she hints at more movies to come. But if the box office receipts for this one are any indication, this is the one and only Landon film we're likely to see and because of that, movie lovers everywhere should rejoice. It's not so much a bad film as it is a bland and forgettable one with a lackluster cast. Considering how many surnames that appear more than once throughout the credits, nepotism was running rampant here. But it's also a shining example of why hiring your family may not help your film any. Newcomer Rissa Walters stars as Sarah, and she's a pretty enough girl but is seriously lacking in screen presence. The script is real goody-goody despite a few mature details of the story, and that helps to make the film a little more bearable. The unintentional laughs also help, but not enough. The central mystery that makes up the movie's plot is not totally without interest, but in the same respect, it could have easily been lifted from a decades-old Nancy Drew book or a mediocre "Scooby Doo" episode. "Sarah Landon and the Paranormal Hour" is a curious film that is no better or worse than the recent big-budget "Nancy Drew" film. Anybody other than pre-teen girls should have something better to do.
Timothy Sanders
I'm willing to forgive a lot when it comes to this low budget family "horror mystery" film. I can let some of the amateur acting and mediocre sets slide because this movie actually does tell a good story, and it is certainly original. While it's nothing meant to scare you, the bad guy in this film is just a scary-looking actor, so he doesn't have to try very hard to prove that he's a jerk. I think that the lead actress - Rissa Walters - did a swell job with this film, and she easily has better acting talent than the rest of the cast. I look forward to future installments in the "Sarah Landon" series. If they can get actors with as much natural talent as Rissa has, the sequels can easily improve.
Matthew Watts
This was not as bad as I thought that this would have been. You have to kind of remember the target audience for this one as well as it seemed to be more of a young female pre teen audience. With that being said, this was better than I thought. Thje acting was on the kind of poor side and the climactic ending wasn't all that climactic, but it did have some decent moments of tension and a decent story line to go with this.
Sarah Landon and the Paranormal Hour Quotes
There are no approved quotes yet for this movie.