Sasquatch Hunters
(2005)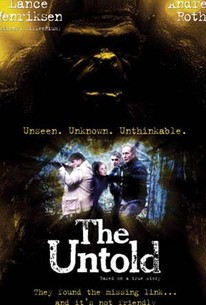 AUDIENCE SCORE
Critic Consensus: No consensus yet.
Movie Info
A team of scientists gets more than they bargained for while on a research trip in this thriller. Dr. Ethan Edwards (Gary Sturm) and Dr. Helen Gilbert (Amy Shelton-White) are a pair of paleontologists who are leading a team of students and forest rangers on an expedition though a deeply wooded area in search of fossils. Edwards and Gilbert are hoping to find evidence that will support their theory that a primitive primate, not unlike the "Sasquatch" or "Bigfoot," lived in the area. After setting up camp one night, the crew discovers what appears to be some sort of burial ground for creatures very much like those the researchers were hoping to find. But the excitement of this discovery turns sour when the paleontologists realize that most of the bones are of fairly recent vintage -- and that a living and very angry specimen of the Sasquatch is lurking in the woods, ready to attack. Produced under the title Primeval, Sasquatch Hunters also stars Matt Lattimore, David Zelina, Stacey Branscombe, and Juliana Dever.
Critic Reviews for Sasquatch Hunters
Audience Reviews for Sasquatch Hunters
One day there will be a decent Sasquatch movie. One day he will be taken seriously. Until then we can continue to watch these made-for-TV miracles. Sasquatch Hunters decides to go all CGI on Bigfoot's ass. It doesn't work out well. As the pixels attack, all credibility is lost. There's some good scripting in the area of "Your mama" and "Your face" jokes towards the beginning. It's always delivered well, with moderately acceptable performances and a score which is surprisingly dramatic and professional.
Luke Baldock
Super Reviewer
Sasquatch Hunters Quotes
There are no approved quotes yet for this movie.