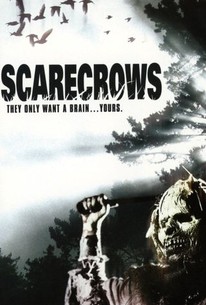 Scarecrows
1988, Horror, 1h 20m
12 Reviews
1,000+ Ratings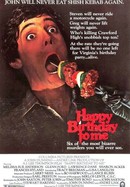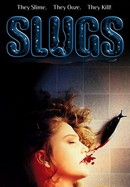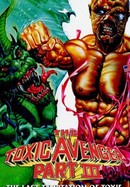 The Toxic Avenger Part III: The Last Temptation of Toxie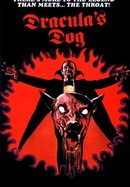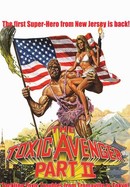 The Toxic Avenger, Part II
Rate And Review
Movie Info
Bank robbers parachute from a hijacked plane into a field full of killer scarecrows.
Audience Reviews for Scarecrows
Scarecrows is a good film, but one that could definitely have used a few rewrites to make it a much better horror film. The scarecrow genre is an interesting genre of horror, and there has been a few good movies to deal with the subject, the most notable being Dark Night of the Scarecrow, which stands as the finest and scariest Scarecrow film ever made. This film on the other hand is good, but one that never really takes off and becomes a tedious affair. The film is directed by somewhat who clearly can't seem to craft a tense and thrilling memorable horror film that considering its idea, should have been much better than this. Scarecrows is good, but falls short of its potential, and I think it's a great shame because this film could have been a worthwhile and truly terrifying scarecrow film. As it stands, the scares are average, and the performances could have been improved upon a bit. The film clearly has limitations, and it tries to create effective scares, but it never ends up being terrifying. A good outing, but one that isn't a standout picture either. If you want the definitive scarecrow film, watch Dark Night of the Scarecrow, which is far better acted, directed and has a much better story. This is a good horror film to watch when you have nothing else better to do, and it could have been done much better. I really expected something great with this one, but as a whole, I was a bit disappointed as well. Good, but never great, Scarecrows is a film that considering its premise should definitely have been superior in every way compared to what we go on-screen. Worth seeing at least once, but it doesn't necessitate multiple viewings.

* out of **** I literally have nothing to say for this film and just how bad it is. It shoots itself in the foot from the get-go, opening with a horrifyingly misguided sequence set on a jet that is flying above a farmhouse and field which introduces us to five mercenaries/criminals, one of whom abandons ship with the money that the team had just stolen from somewhere (presumably a bank of some sorts). The guy who lands on the farm grounds is named Burt, and you'll be annoyed by the mere sound of his name by the twenty minute mark at least since the other anti-hero characters won't stop threatening him via radio. As the others descend from the jet so that they may exact revenge by way of bullets, Burt is checking out the farmhouse and the scarecrows that surround it. Eventually, he gets stabbed by one of them and, yes, dies a horrible and bloody death. One of the characters at one point says "I think this place is possessed by demonic demons!" What he suspects is correct; the farmland has a dark past behind it, or in this case not so far behind it, which somehow allows the scarecrows to come to life, explaining the stabbing. The scarecrows kill all those who trespass on their territory and proceed to turn the newly dead into scarecrows as well. It's essentially a never-ending process; which could indeed be said for the film itself. It's a slasher flick devoid of reason, talent, wit, or intelligence. I'm astounded that I even heard of it in the first place; and offended that Netflix predicted my rating would be just a half a star short of three (out of five). The director is William Wessley. He borrows everything in this film from others before it; such as, for example, "The Exorcist". It's difficult to look at the opening titles for "Scarecrow" and not think of William Friedkin's masterpiece. And then it steals from countless other slasher flicks before it, emerging with none of the charm or suspense but at least some of the gore. The kills are bloody but not necessarily graphic. The camera shies away from the best stuff, rendering it mostly ineffective. But the gore effects are essentially the only department in which I can somewhat praise Wessley's "craft"; of which otherwise he has absolutely none. Whether it's silly dialogue, absurd over-acting, or a complete lack of atmosphere; "Scarecrows" is clearly not your best killer scarecrow movie. All the time, I was wondering just how bad a filmmaker you'd have to be to screw up an idea like that. Scarecrows are awesome, good material for a horror film, and yet this movie does nothing with them. Oh well, at least they look decent as far as creepy scarecrows go, although they're still nothing special. Overall, it's a terrible mess that unsuccessfully attempts to blend an action-thriller with a horror movie. Sometimes, a mess can be at least mildly exciting and even intriguing. Yet "Scarecrows" doesn't even get past boring.

Not bad but not great either

I first saw this movie in the late 80's or early 90's and I never watch it again till now. I didn't remember that much about it and let me tell you, friends, that the effects used were good but couldn't save the movie. I just wish the story could've been better developed to match the eerie location work and the creepy atmosphere, though, It has a couple of good moment... well... to be exactly I just remember two but most of the time it is really boring. "Scarecrows", in my opinion, is slightly overrated.
See Details