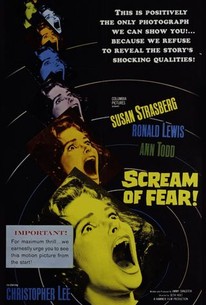 Scream of Fear
1961, Horror, 1h 21m
5 Reviews
500+ Ratings
Rate And Review
Movie Info
Penny Appleby (Susan Strasberg) is a paralyzed young woman confined to a wheelchair. For the first time in ten years, she has returned to her father's home -- only to be told that he is away. Penny is suspicious of her stepmother's (Ann Todd) odd behavior, and is convinced that something is amiss. While searching around the house, Penny discovers her father's body, only to have it vanish before anyone else can see it. Is Penny's father really dead, or is she losing her mind?
Genre: Horror

Original Language: English

Director: Seth Holt

Producer: Jimmy Sangster

Writer: Jimmy Sangster

Release Date (Theaters): wide

Release Date (Streaming):

Runtime:

Production Co: Falcon Films
Audience Reviews for Scream of Fear
Scream of Fear aka Taste of Fear (1961) is the very best Hammer film ever put on screen.. The story concerns a girl in a wheelchair going to live with her Dad whom she hasn't seen in years. Upon arrival, she meets her stepmother for the first time and is informed that her Dad is away on business. That night, she investigates a strange light in the summer house and discovers here dead father. In her horrified state, she falls into the pool. After she's revived, an investigation of the summer house reveals nothing. As the strange events continue to occur, the local doctor begins to doubt her sanity. But, with the help of the chauffeur, she's determined to get to the bottom of the mystery before she is either killed or driven insane. Anymore of the story would ruin it for anyone who hasn't seen the movie. I've seen some call Scream of Fear "predictable". While I agree to a certain extent, there are enough twists and turns in the plot to keep most anyone guessing. While I may have seen some of the events coming, I could have never guessed the ending. To me, it was an "edge of the seat" movie from start to finish. The acting is first rate. All four of the major characters are brilliantly played. Susan Strasberg is convincingly fragile as the wheelchair-bound Penny Appleby. Ronald Lewis and Ann Todd are perfect as the chauffeur and stepmother, respectively. And, although all he does is come to dinner and talk psycho mumbo jumbo, Christoper Lee is mysterious and convincing as Dr. Gerrard. Everything else about this film, from the beautiful black & white photography to the creepy score, is perfect. I've really got nothing bad to say. 5 stars 7-27-13

Scream of Fear is a modern (modern for the time at least) Hammer thriller that gets its point across very well with beautiful black and white photography, moody (in a good way) direction and some subdued acting. The story starts off pretty decently and to avoid becoming predictable takes a turn which offers up a great twist. Unfortunately its explained so horrendously and complexly through a bit of Rube Goldberg dialogue that not even Susan Strasberg's foxiness can save the whole Scream of Fear experience. I'm not the kind of moviegoer that needs things explained so simply that anything else is incomprehensible. The final scene traded in ghastliness for a bit of comedy but that's just me. If it weren't for the ending Scream of Fear could've been great.

Now thats what I call a HORROR movie!!!

By 1961 Hammer had been churning out Gothic horror movies for the better part of five years and writer Jimmy Sangster was eager to try his hand at something new, namely a psychological thriller influenced by recent screen adaptations of works by the French writing team of Boileau-Narcejac, which had included Clouzot's <I>Les Diaboliques</I> and Hitchcock's <I>Vertigo</I>. Further experiments within this genre were to follow, such as the luridly titled <I>Maniac</I> and <I>Paranoiac</I>. If the ultimate failure of Sangster's attempt to drag Hammer into the 20th Century is evidenced by the fact that the studio was still making Gothic horror movies right up until it closed its doors in the mid 70s, <I>Taste of Fear</I> is still an excellent movie, atmospheric, perfectly cast and superbly photographed by one of the best in the business, Douglas Slocombe.
See Details