Screamers: The Hunting
(2009)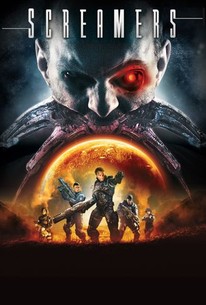 AUDIENCE SCORE
Critic Consensus: No consensus yet.
Screamers: The Hunting Photos
Movie Info
The terror continues in this sequel to the cult sci-fi hit about a race of robotic killing machines intent on destroying the human race. Thirteen years ago, the human population of planet Sirius 6B was completely wiped out by Screamers - blade-wielding, shape-shifting cyborgs that make a horrible high pitch sound while literally hacking their victims to pieces. When a distress signal from Sirius 6B reaches Earth, a team of rescuers is dispatched in order to find out whether a long-lost colony of human survivors have somehow managed to elude the murderous robots all these years. But the truth is far more sinister, because now the machines have managed to evolve into half-man/half-machine hybrids, and their determination to escape from Sirius 6B and find their way to Earth is stronger than ever before. Now, all that stands between the Screamers and the complete annihilation of the human race is a rescue team with dwindling supplies and limited ammunition.
Critic Reviews for Screamers: The Hunting
All Critics (2) | Fresh (0) | Rotten (2)
I appreciated the gore and the brutal action. However, there's so much more that could have been explored with the evolving Screamers and their potential to mimic humanity.
Audience Reviews for Screamers: The Hunting
½
A squad of Alliance soldiers are sent to Sirius B to investigate a distress signal and rescue colonial survivors from the latest generation of robotic assassins. The Hunting is one of those films which perplex me as to why they exist at all; quite why a minor 90s B-movie warranted a sequel I don't know. And although the original Screamers may have "borrowed" some ideas from Aliens, The Hunting is about as shameless as Paris Hilton on a tequila and nose candy binge (Hell, even Bishop makes a cameo appearance). It does manage to build on the original idea providing improved effects and better narrative momentum and is a perfectly serviceable sci-fi B-movie itself despite once again featuring no familiar faces (apart from Jana Palaske, whose resemblance to Scarlett Johanssen is almost spooky...) and the fact that the ending is even more ridiculous than the original. A decent enough diversion but given the choice between watching this and the REAL Aliens for the umpteenth time there's only one real choice.
This is a fairly good sci-fi movie about a disagreement between some earthlings and machines called 'Screamers'. I guess I watch too many of this type of movie as I had a pretty good idea of what would happen in the movie about half way through it. The special effects are not bad. Worth seeing!
As I like to call it...Tremors in space hehe. Decent follow up to the decent original, plenty of really nice gorey effects which actually look nice and not cheesey. The story is good but it does tend to go slightly over the top as you get more into the film, fusion with humans is not an original concept and you do get the impression that Terminator, Species, Virus amongst others had an influence on the plot. The ending is cool but Im getting the feeling that there could be more poorer sequels. The inclusion of Henriksen gives the film a nice lift, he's always so cool :)
Phil Hubbs
Super Reviewer
Screamers: The Hunting Quotes
There are no approved quotes yet for this movie.