Se incontri Sartana prega per la tua morte (If You Meet Sartana Pray for Your Death)
(1968)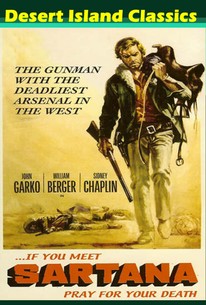 AUDIENCE SCORE
Critic Consensus: No consensus yet.
Movie Info
In this western, an engimatic stranger stops a stage from being robbed.
Rating:
PG
Genre:
,
Directed By:
Written By:
In Theaters:
Runtime:
Studio:
Paris Etolie Films
Critic Reviews for Se incontri Sartana prega per la tua morte (If You Meet Sartana Pray for Your Death)
There are no critic reviews yet for Se incontri Sartana prega per la tua morte (If You Meet Sartana Pray for Your Death). Keep checking Rotten Tomatoes for updates!
Audience Reviews for Se incontri Sartana prega per la tua morte (If You Meet Sartana Pray for Your Death)
½
This movie is from the 10 Feature Film Collection Sartana The Complete Saga. I am a big fan of Spaghetti Westerns (the good ones, anyway), and was really looking forward to seeing "Sartana." I loved the film "Django"--I can understand why it was so successful and inspired so many imitation Django-films. But after viewing the English language video of "Sartana", I can't see any reason why "Sartana" inspired any imitators, or was so successful. To me, "Sartana" was just an average Spaghetti, with a high body count--mostly resulting from the villains killing each other. I watched the video twice, and I still don't understand the plot--it was a jumbled mess; perhaps the original Italian version made more sense. Klaus Kinski's role was limited to just a few scenes, with almost nothing to do. William Berger made a charismatic villain, but his personality inexplicably alternated between bravery and cowardice. (And I don't know how Berger was able to recruit gang members, the way he was always killing his own men.) The unshaven anti-hero Garko (who bore an uncanny resemblance to James Franciscus in some scenes) was pleasing but unexceptional in the lead role, his only unique feature was his weapon, a tiny four-barrel pepperbox-style pistol--which in reality, with its short barrels and tiny bullets, should have been vastly inferior in range, accuracy and effectiveness when compared to an ordinary six-shooter. Even the background music was bland. Too many incidents were lifted from the Leone/Eastwood films: the musical watch, the metal plate deflecting a bullet, the eccentric coffin maker. And Sartana wins the final showdown by using a trick, instead of his skill. "Sartana" is a historically important Spaghetti Western because of its success and the number of imitators (in name, at least) that it inspired, but there are many better films within the Spaghetti Western genre. 2 1/2 Stars 12-12-12
Bruce Bruce
Super Reviewer
½
The first Sartana film reads like a laundry list of Spaghetti Western elements: stagecoaches, poker cheats, barroom brawls, dirty backstabbing and shootouts. The plot revolves around a large amount of gold that was supposed to be shipped from a bank but was stolen along the way, only the questions are: who stole it and where is it now? The movie is rather rough around the edges, with some awkward edits here and there, but its strength lies in the performances of the two leads. Gianni Garko's Sartana is a ludicrously capable and prepared bounty hunter and William Berger's Lasky is a maniacal psychopath, and its just plain fun watching the two play off of each other. Full review here: http://kestifer.blogspot.com/2011/09/i-am-your-pallbearer.html
Kestutis Kalvaitis
Spaghetti Western check list: Double cross? Bundles and bundles of them. So much so you will have no idea whats going on...but thats ok. Anti-hero? Yes, it definitely has a cool, sharp dressed anti-hero with some cool weapons. Garko is one bad ass dude. He's a card shark. A sharpshooter with his rifle and has a little....trick up his sleeve. Body count? Decent. Mexicans? Oh yes. El Jefe is the great Fernando Sancho, who plays a mexican bandit in a good amount of spaghetti westerns and probably every film he was in. Two timing hell cat? Yes, it's got one. Coffin full of gold? Double check. Klaus Kinski? Definitely. His angular face is a welcome addition to any film. And he's wonderfully creepy here. Other? Some very snazzy cinematography is going on as well. Also even though the film was semi-convoluted, it still flowed pretty well and kept me interested. Kudos to Gianfranco Parolini the director, he made on entertaining film. He was also the man behind the similarly named Sabata trilogy.
jonathan brazeau
Se incontri Sartana prega per la tua morte (If You Meet Sartana Pray for Your Death) Quotes
There are no approved quotes yet for this movie.
Discussion Forum
Discuss Se incontri Sartana prega per la tua morte (If You Meet Sartana Pray for Your Death) on our Movie forum!