The Secret in Their Eyes (El Secreto de Sus Ojos)
(2010)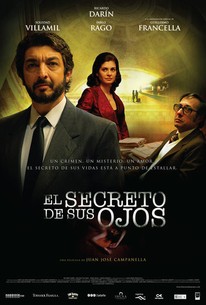 TOMATOMETER
AUDIENCE SCORE
Critic Consensus: Unpredictable and rich with symbolism, this Argentinian murder mystery lives up to its Oscar with an engrossing plot, Juan Jose Campanella's assured direction, and mesmerizing performances from its cast.
The Secret in Their Eyes (El Secreto de Sus Ojos) Photos
Movie Info
Benjamin Esposito has spent his entire working life as a criminal court employee. Recently retired, and with time on his hands, he decides to write a novel. He does not decide to make up a story. There is no need to. He can draw on his own past as a civil servant for a true, moving and tragic story in which he was once very directly involved. In 1974 his court was assigned an investigation into the rape and murder of a beautiful young woman. -- (C) Sony Classics
News & Interviews for The Secret in Their Eyes (El Secreto de Sus Ojos)
Critic Reviews for The Secret in Their Eyes (El Secreto de Sus Ojos)
Audience Reviews for The Secret in Their Eyes (El Secreto de Sus Ojos)
½
Another spectacular must-see by Argentinian master Juan José Campanella, with great performances, especially by Ricardo Darín, in an exceptional crime thriller about obsession and passion with those fine doses of humor and romance that Campanella loves so much.
Carlos Magalhães
Super Reviewer
½
The 2010 Academy Awards category for Best Foreign Language film contained some strong contenders with the likes of Jacques Audiard's "A Prophet" and Michael Haneke's "The White Ribbon"; two films that could easily have laid claim to the award. However, it was this film crept up from under their noses and took the Oscar. Whether or nor you pay any credence to the Oscars is neither here nor there but there's no doubt that this is solid and absorbing filmmaking. In 1999, retired criminal justice officer Benjamin Esposito (Ricardo Darìn) decides to write a novel about a murder case that he investigated in 1974. He decides visits his old colleague Irene Hastings (Soledad Villamil) to talk it over. The case had repercussions for everyone involved but Benjamin didn't realise the direct effect it had on him or his deep, suppressed feelings for Irene. With a title like "The Secret In Their Eyes", this film states it's intentions and stands by them. Director Juan José Campanella lingers long on shots and wisely focuses on the eyes of his performers. For a film that's predominately dialogue driven, the abundance of close-up's add another dimension where the eyes speak a thousand words. It's a great technique that conveys a myriad of hidden meanings in the relationship between the two main characters, Benjamin and Irene. However, this relationship is not entirely apparent from the off-set. It's only when the film's layers are revealed that this comes to the surface, as in the meantime you're too preoccupied with it's murder-mystery plot developments. This mystery progresses into a manhunt, while taking time to explore the judicial system and political corruption that was rife in Argentina in 1970's. It's during this, that Campanella takes advantage of the thriller element in the story, delivery an absolutely astounding and very skilfully handled tracking shot through a football stadium, leading to an impressively assembled chase sequence. Just how they managed to do it is beyond me and needs to be seen to be believed. There are many moments of intensity when it matters (including a nerve-racking elevator moment that's hard to forget) but it also knows how to ground itself and that's were the performances come in; Ricardo Darin is a charismatic presence who more than holds your interest with unshakable ideals and a strong moral compass, while Soledad Villamil delivers a strong and reserved show. It's the chemistry between these two wonderful actors that play a big part in the film's, effortless, tonal shifts. It's also not without humour or tragedy which is provided by Guillermo Francella as Benjamin's alcoholic, but loyal and reliable colleague, Pablo. Quite simply, it's easy to see why this film took the Oscar, it's has a bit of everything; a sharp and involving script that pays great attention to detail; skilful direction; rich cinematography and natural, committed performances. A complex tapestry about life, love and chances rued that's built around the constructs of a thriller. It excels in everything it challenges and that's exactly where it's strengths lie. Mark Walker
Mark Walker
Super Reviewer
This movie reminds me a little of Oldboy or Tell No One; it's a rivetting crime drama tied together by really endearing and human characters. This movie makes a point of letting you get to know all the characters and seeing their fears , goofiness and pettiness - all the things that make them human, basically - and uses them to anchor the investigation into a decades-old crime. Every single character in this movie is interesting and genuine: the villains aren't devoid of moral fibre, and the heroes aren't free from feelings of bitterness and selfishness. I really appreciated the time they took to hash out these people's motivations and relationships. The Secret in Their Eyes also reminded me a little of The Girl With The Dragon Tattoo, but much less mean-spirited. This is not the kind of movie I usually go for, but I am so glad that I saw it.
Emily Armstrong
Super Reviewer
The Secret in Their Eyes (El Secreto de Sus Ojos) Quotes
| | |
| --- | --- |
| Isidoro Gómez: | (to Espósito):"At least ask him to talk to me"(In reference to Morales) |
| Isidoro Gómez: | At least ask him to talk to me. [in reference to Morales] |
| | |
| --- | --- |
| Irene Menéndez Hastings: | (In reference to Gómez):"Obviously, they are not making any reference to this toasted-sausage germ" |
| Irene Menéndez Hastings: | Obviously, they are not making any reference to this toasted-sausage germ. |
| | |
| --- | --- |
| Pablo Sandoval: | and she wants to get married more than Susanita... |
| Pablo Sandoval: | And she wants to get married more than Susanita... |
| | |
| --- | --- |
| Benjamín Espósito: | How do you live a life full of nothing? |