Séraphine
(2009)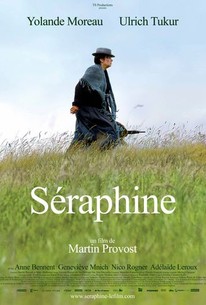 TOMATOMETER
AUDIENCE SCORE
Critic Consensus: Seraphine is a well-crafted French film that effectively captures one woman's experience with art, religion, and mental illness, and features a brilliant performance from Yolande Moreau.
Movie Info
Belgian actress Yolande Moreau headlines this biopic, starring as a little-known but uncommonly brilliant painter. Frenchwoman Séraphine Louis (Moreau), aka Séraphine de Senlis, lived from 1864 to 1942. Though ostensibly a shepherdess and housekeeper whose chief duties involved cooking, cleaning, and ironing, in her off-hours Séraphine joyously turned to natural elements of the outdoor world, with which she felt a tremendous degree of emotional and spiritual communion. Séraphine channeled these undying passions through painting, and, having only the scantest materials at hand, created paints from elements such as animal blood, oil from church candles, and dirt pulled from the ground. With these crude and raw tools, the nascent, budding artist created tableaux of floral arrangements utterly unlike any seen before. Sadly, those around Séraphine perceived the paintings as coarse and unimpressive -- something of a joke. Her life took a most fantastic turn, then, when Wilhelm Uhde (Ulrich Tukur), a German art critic, turned up in Senlis -- and laid eyes on the young woman's creations for the first time. Yet, despite the success that Uhde brought to Séraphine, a sad future still lay ahead for the young woman -- one accompanied by continued obscurity and emotional isolation. ~ Nathan Southern, Rovi
News & Interviews for Séraphine
Critic Reviews for Séraphine
Audience Reviews for Séraphine
½
An excellent bio-pic of the primitive artist, Seraphine de Senlis (the fabulous Yolande Moreau), who heard voices that told her to paint the most intricate, beautiful paintings taken from nature. She came to the attention of an art critic and collector, Wilhelm Unde (Ulrich Tukur) who eventually championed her work in France. The strength of Ms Moreau's performance is what made this film for this viewer. She is phenomenal, capturing the single-minded purpose with which she carried out her duties, her naïvetà (C), her devious nature, and her incredible talent as an artist. Everyone else merely inhabits the frame. Ms Moreau commands it.
Mark Abell
Super Reviewer
½
Sometimes art comes from the most unexpected places, and that is especially true of Seraphine Louis(Yolande Moreau) who in 1914 takes all sorts of odd jobs cleaning to support her painting which she was told to do by a higher power while at a convent. At the same time, she is two months behind on her rent. But that's not important when she is doing what she loves and can be outside where she can feel the ground beneath her bare feet in the countryside. One of the houses she cleans is for Madame Duphot(Genevieve Mnich) which she is renting out to Wilhelm Uhde(Ulrich Tukur) and his sister Anne-Marie(Anne Bennent). Wilhelm is an influential art critic from the city who was the first one to bring Picasso to the public's attention. So, while the film moves in leisurely fashion, the world of 1914 is not, as a war on the horizon will change everything as realism is being replaced by modernism and beyond in the art world.(But the world is not changing quickly enough as Wilhelm tells Seraphine at one point that he will not marry a woman.) All of which is captured with nuance in this endearing film.
½
This film is decent, to say the most. To call it a masterpiece is too much... This biographical story revolves around a poor cleaner who turns out to have amazing artistic talent. It is the typical French tragedy, done with typical French cinematography. I never liked the character Seraphine much, although from time to time I sympathized with her. Her acting was unique. It was as if she was taken straight from a poor country into the studio, because there is NOTHING about her that resembles an actress, or a star. But, all in all, the movie was well done.
Cynthia S.
Super Reviewer
Séraphine Quotes
There are no approved quotes yet for this movie.