Sex and Lucia
(2002)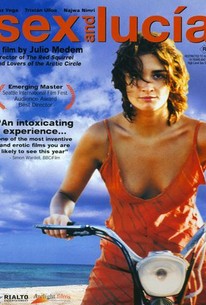 Movie Info
Lucia is a waitress who lives and works in Madrid. After what she believes to be the loss of her boyfriend, the tortured writer Lorenzo, she flees to a secluded island that he had often told her about. There she meets Carlos and Elena, who have also run away to the island to escape personal tragedy. Unbeknownst to them, all three have a connection to Lorenzo. Elena met him many years ago on that same island and enjoyed beautiful, anonymous lovemaking with him in the sea by the light of a full moon. 9 months later, Elena gave birth to Luna, but never managed to find Lorenzo. Carlos was the stepfather of Belen, who disappeared after she unwittingly caused the death of Luna. As she hears more about the past of her two new housemates, Lucia is reminded of the book Lorenzo was writing, a tale about a journey into a dark, deep past that brought on his depression. Soon, the lines between fact and fiction begin to fall apart.
Critic Reviews for Sex and Lucia
Audience Reviews for Sex and Lucia
"The first advantage is at the end of the story. It doesn't finish, it falls in a hole. And the story starts again halfway. The other advantage, and the biggest, is that you can change course along the way... If you let me. If you give me time."
Randy Tippy
Super Reviewer
A waitress falls in love with a novelist who has a secret in his past; parts of the movie describe their real love story, and parts are dramatizations of a novel the male lead is writing, with it largely left to the audience to decide which is which. Ambitious, multi-layered story with great performances and cinematography; the brief explicit sex scenes are a gimmick.
The earlier film by Julio Médem (Lovers of the Arctic Circle) is a prelude to the kind of cinematography that this Spanish film director/writer presents here. I have read most of the other comments, but they don't do justice to it, mainly because of the lack of understanding the original tongue of this film. The screenplay is excellent, full of metaphors and a rich use of very carefully chosen words. People who consider this film just an excuse for depicting sex scenes as the highlight of the movie are pretty much clueless. It is more than that, it is the complex storytelling that tangles the characters in this movie and the way that is told. Compelling and breath-taking. A must see.
Cassandra Maples
Super Reviewer
Sex and Lucia Quotes
There are no approved quotes yet for this movie.