Skammen (Shame)
(1968)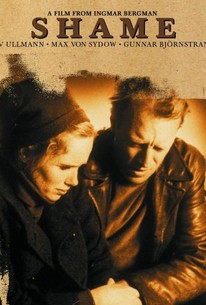 Movie Info
This film is set in an undetermined foreign land, torn apart by a bloody civil war. Husband and wife musicians Jan and Eva flee to a remote island to escape the carnage. When the island is invaded and used as a battlefield, the effect on the couple's relationship is disastrous.
Critic Reviews for Skammen (Shame)
Audience Reviews for Skammen (Shame)
"Skammen" ("Shame") is less famous than some other Ingmar Bergman classics, but it's among his finest work. One of many Bergman films shot on his home island of Faro (others include "Hour of the Wolf," "Persona," "Scenes from a Marriage" and "Through a Glass Darkly"), "Shame" is actually a war movie with a surprising amount of "action" by Bergman standards. Though it was reportedly plagued by budget problems, the parade of shell explosions, gnarled corpses and hulking military vehicles marks a film much splashier than the usual drawing-room character study. The casting is nothing new -- Bergman regulars Liv Ullman, Max Von Sydow and Gunnar Bjornstrand again dominate. Ullman and Von Sydow play Eva and Jan Rosenberg, two former classical musicians who have been married for several years. Their quiet life consists of puttering with domestic chores, selling homegrown berries and lazily sharing each other's company (for better or worse -- their erratic relationship often drops into ugly bickering). But their simple world is thrown into chaos when enemy planes suddenly buzz overhead, announcing a violent attack. Land troops soon follow, posing a dramatic threat to the couple's home and lifestyle. Though Eva and Jan are politically neutral, they are interrogated and taken prisoner by the invaders (who self-righteously label themselves "liberators"). The two veer in and out of danger as the destruction increases. Scared and bewildered, they struggle to be compliant with their captors, but the unstable Jan is tempted to join the madness. His deterioration is disturbing, and the film's unresolved ending offers no assurance of a secure future for anyone. The embattled country is never named (the enemy speaks the same language, suggesting an internal conflict), nor are the contentious issues ever mentioned. This is not a film about policy, but a more timeless story about war's toll on civilians. Sven Nykvist's cinematography is typically exquisite, capturing both intimate dialogue and wartime spectacle. "Shame" is among Bergman's last black-and-white films, and the poetry of Ullman's and Von Sydow's weary faces is compelling even without the story. Ambivalent Bergman fans should be forewarned, however -- the action slows down considerably with about 40 minutes to go, and returns to the bleak, tortured conversation that is his trademark.
Eric Broome
Super Reviewer
½
A gruelling watch, but one of Bergman's finest films. Interesting to compare this with The Hour of the Wolf, as both feature the same lead actors as artists (or an artist and his wife) who have taken sanctuary on an island. In the earlier film it's largely inner demons that lead to von Sydows disintegrating personality (at least that's how I read it) whereas here it's very much circumstances beyond his control. Much has been written about the unsympathetic central characters, particularly von Sydow's. For me there are flashes of a good (if flawed) man early in the film, but one who copes badly with adversity. The flaws become all that is left as his humanity is gradually eroded by one horror after another. I watched A Passion (Ullmann and von Sydow on their island again) soon after this, and was amazed to recognise many of the same locations. And then there's a dream sequence...
Cassandra Maples
Super Reviewer
Another powerful bullseye from Bergman.
Anthony Valletta
Super Reviewer
Skammen (Shame) Quotes
There are no approved quotes yet for this movie.