She-Devils on Wheels
(1968)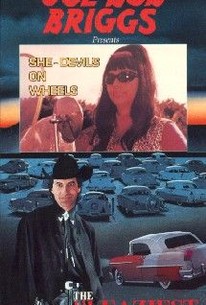 AUDIENCE SCORE
Critic Consensus: No consensus yet.
Movie Info
Cult filmmaker Herschell Gordon Lewis directed this outrageously campy story of an all-female motorcycle gang called The Man-Eaters. The butch, chain-wielding women pick men to service them from a line-up, fight with male bikers, and hold orgies. Nancy Lee Noble (The Girl, the Body, and the Pill) appears as a naive recruit named Honey-Pot, and there are the usual decapitations and crucifixions which the viewer might expect from the director of Blood Feast. T-shirts bearing images of the film's flamboyant poster ("Soft, HELL!") became trendy among urban teens in the 1980s.
Critic Reviews for She-Devils on Wheels
All Critics (4) | Fresh (2) | Rotten (2) | DVD (2)
And yet, somehow, abstract concepts appear much more clearly when glimpsed from the rock-bottom of human experience.

Nearly corny enough to be worth it, but not quite.
Audience Reviews for She-Devils on Wheels
½
Okay, so the 'she-devils' were never as rough as the lurid title might suggest, but this was still a decent little watch. Exploitation fun at its finest, a perfect Something Weird Video release. Rental?
Bill Bryant
Hershell Gordon Lewis' biker movie involves a female biker gang, which I thought was just awesome, and I really liked the ending too. It was the rest of the movie that wasn't so hot. The movie gets pretty boring in some scenes, and a lot of the scenes with violence seem to belong in a horror movie, which is what the director is usually known for. Overall, an interesting movie, but it's just okay, not great.
½
camp with a capital c. costumes that look like they were made by 5th graders on a female biker gang that, even when they're killing people, can't be convincingly menacing. probably because they never stop spouting limericks (which they all laugh at) and they seem to have never learned how to curse. their wild orgies somehow happen without the removal of clothing. their gang of groupies, the "stud line," are addressed in a way that would sort of make them seem subjugated if everyone didn't seem to be having such a good time. the whole thing is so ridiculous you just have to laugh. AWESOME theme song. thanks, chockie!
Gregory Collins
She-Devils on Wheels Quotes
There are no approved quotes yet for this movie.
Discussion Forum
Discuss She-Devils on Wheels on our Movie forum!