Sherlock Jr.
(1924)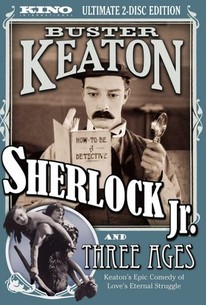 Movie Info
This film is one of Buster Keaton's funniest and most technically innovative features. He plays the floor sweeper and projectionist of a small-town movie theater who in his free time studies to be a detective.
Critic Reviews for Sherlock Jr.
Audience Reviews for Sherlock Jr.
A great movie all the more remarkable due to the technique employed and how Keaton could pull off a number of risky stunts without getting killed - and his huge care is evident in a hilarious billiard scene and a fabulous moment in which he dodges many dangers on a motorcycle.
Carlos Magalhães
Super Reviewer
½
Sherlock Jr. is only the third silent film I've seen and the first from Buster Keaton. All that's going to change though because this movie has made me see the different types of humor that the silence offers, as well as other cool things that can be done when talking isn't involved. A young projectionist, who is also studying to be a detective is accused of stealing from the family of the girl he is trying to marry when a rival suitor frames him. He falls asleep while running a movie and dreams himself onto the screen where he becomes Sherlock Jr., the greatest detective in the world. I loved pretty much everything about this movie and the influence it had over future movies is almost unparalleled. It was one of the first films ever to employ the usage of multiple story lines and also introduced the notion of escaping from ones life into the movies. A story which has been used many times over the years. Sherlock Jr. is a masterpiece of early filmmaking from one of the most revered silent comedian and director of the silent era. The technical concepts he uses in this film are quite astounding for his time and watching them now, over 90 years later, it astounds me to see a masterpiece like Sherlock Jr.
Melvin White
Super Reviewer
½
It is an unchallenged assumption that Buster Keaton is one of the silent films era's greatest comedians, on par with the likes of Charles Chaplin and Harold Lloyd. The great stone face stars in this film with the same candor and comedy of his previous films. What sets Keaton's films apart from his contemporaries seems to be his love of danger and high impact stunts within his comedies. In "The General" he did a lot of stunts aboard an old timey locomotion which I had thought was the deadliest choice for that film, since paid stunt men were regularly killed in making these kinds of films. In "Sherlock Jr." there is one sequence in particular that is so hard to watch and so filled with complex stunts and scenes. Reportedly Keaton suffered from a fractured neck, which he remained unaware of until ten years later, and many of the scenes caused trauma and injury to stunt doubles, as well as the motorcycle used. Plot-wise, this film is a simple dream sequence that follows a man who wants to be a great detective and is the given the chance through his investigation of a thief. It's classic Keaton and delivers the laughs every chance it gets.
Spencer S.
Super Reviewer
Sherlock Jr. Quotes
There are no approved quotes yet for this movie.
Discussion Forum
Discuss Sherlock Jr. on our Movie forum!